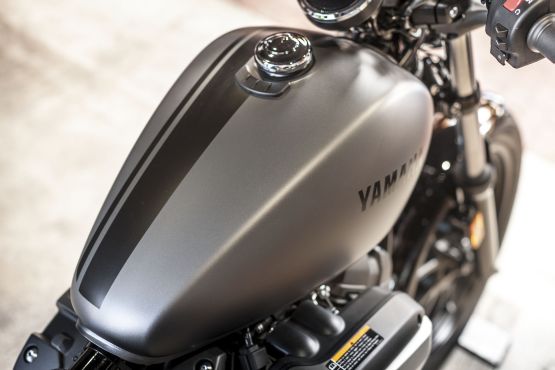 The R bikes sold in Europe and most other markets will also gain by having ABS-equipped brakes, though the US spec launch bikes didn't have the system fitted. The standard model's set-up of single wavy disc at front and rear gave adequate power and control, though the rear is easily locked by a heavy boot. The combination of ABS, superior shocks and more attractive paint makes the R model look better value than the basic XV, given that its price in most markets is not much higher.
That's unlikely to be the limit of an XV buyer's spending, though, because Yamaha's plan is that showroom bikes will merely be the starting point for owners to customise their machines with parts from a long list of accessories. You can go for a performance image with bikini fairing and Akrapovic silencer, add touring ability with screen and saddle-bags or give the bike a vintage look with fork gaiters, wire-spoked wheels and brass details for the lights and speedo.
Yamaha hope this approach will attract younger riders, who like the modern bobber style, but lack the technical ability to fashion a one-off machine themselves or the cash to commission a specialist. The idea certainly has some appeal. Assembling an accessorised XV950 won't match the satisfaction of building your own custom bike or the thrill of ordering a one-off design from Deus or Roland Sands. But Yamaha's fresh take on the factory custom theme is an enjoyable, reasonably practical and much less time-consuming or expensive alternative.