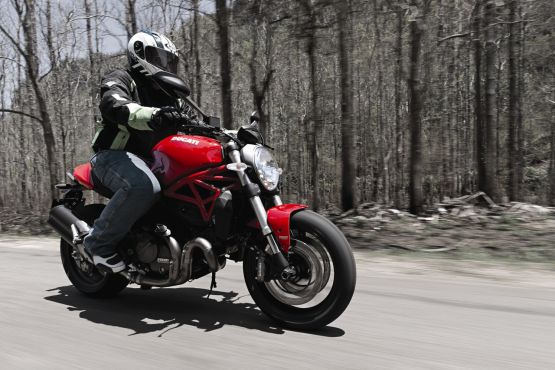 After that, you have ride-by-wire so that all that power is delivered to you with maximum precision. The clutch is imbibed with both servo and slipper actions so that the 821 runs as smoothly as possible, even when you're under-revving or downshifting hard. There are also three levels of ABS which affect the system's involvement at both wheels, and an eight level Ducati Traction Control (or DTC) for added stability. The electronics can be optimised through three riding modes – urban, touring and sport – and each mode can also be adjusted to a limit so that the rider can find his or her personal sweet spot.
Then there's the seat – the standard seat can be adjusted between 785 millimetres and 810 mm. So unless you're competing with Tyrion Lannister in the height stakes (and he'll probably demand trial by battle to settle this one too), you're good to go on the 821. If even at the lowest or the highest setting you're still not comfortable, Ducati have a more versatile 745-835 mm adjustable seat available as an accessory.
How does all this translate on to the road, you ask? Well, I swung a leg over and dropped into the saddle to find out. The comfortably high and backward position of the handlebars coupled with the placement of the seat and their correlation to the foot-pegs mean the riding position is really comfortable, and it didn't give me any cause for complaint throughout the 230-km ride we undertook. The one thing that was a slight bother was the rear-view mirrors, which even when adjusted to optimal positions were still obscured by a reflection of my forearms. The liquid-cooled L-twin powerplant feels refined and quiet at low revs, with the vibes cut out to a minimum. Give that throttle a proper twist, though, and the engine roars to life with a throaty bark that evolves into a menacing growl as you keep climbing up the rev range. Even when you decelerate, there's a wonderfully pleasing grunt and crackle on the overrun, and I can say with some conviction that the 821 Monster is one of the best sounding bikes I have ever ridden.