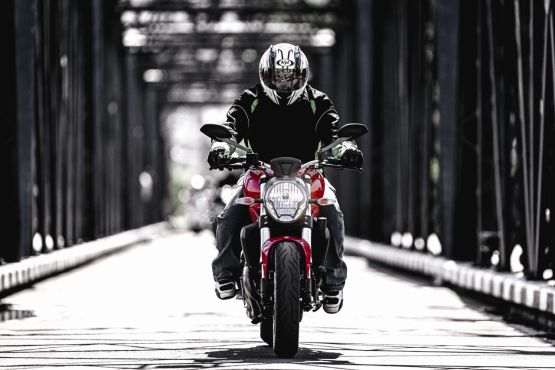 The Monster 821 looks strong and uncompromising, like anything carrying the moniker "Monster" should, but it also looks compact, and drop-dead gorgeous. Strongly echoing the aesthetics of its older brother, the Monster 1200S, the 821 sports a muscular, sculpted 17.5-litre tank which is perfectly juxtaposed with that signature minimalist LED headlamp unit that allows the 821 to hold a very aggressive stance, one that draws your attention and holds it.
Then there's the slick rear end with the grab-handles that accentuate a generous rear seat. The rear seat leads to an intricately stylised tail-piece, and even the number-plate holder looks like someone spent painstaking hours on its design to make sure it was just right.
Where this Monster differs from the 1200S is in details such as the double-sided swing-arm and steel handlebar. Even the LCD display, though quite similar to that on the bigger Monster, is differentiated by the fact that it is monochromatic rather than coloured. The sheer nakedness and that steel trellis frame which is attached to the cylinder-heads as a weight shedding measure further underscore the fierceness of the Monster 821, and the addition of the glorious stainless-steel-and-aluminium double-barrel exhaust and sculpted aluminium rear-view mirrors ensure that little bit of bling that makes the whole bike pop. Now, the Monster 821 is available in two colours, we rode the glossy 'Ducati Red' painted version, but in my heart I was pining for the 'Dark Stealth' matte black version, regardless of what the Ducatisti in general and Monsteristi in particular have to say about tradition.
The Monster ain't just a pretty face either, because it's packed to the brim with Ducati's technological goodness and it all starts with the engine. This Monster is powered by an 821.1-cc Testastretta 11°, Desmodromic four-valves-per-cylinder, liquid-cooled L-twin engine. This mouthful of an engine makes 112 horses at 9,250 RPM, and 89.4 Nm of twist at 7,750 revs, and, according to the aforementioned David James, all this is from an engine whose peak output has been compromised to boost the thrust more evenly across the rev-range.