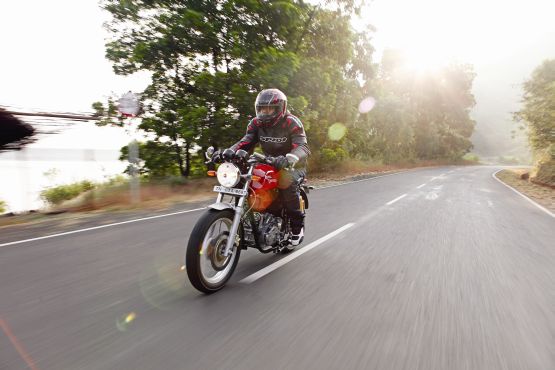 The morning was cold and the air crisp. As I set off for the twists and turns of our friendly, neighbourhood ghats, I realised one thing immediately. The Continental GT is, after all, a Royal Enfield. There's loads of bottom-end torque, and the response is good. As far as quality and refinement are concerned, this is the best one yet. It rides unlike any other Enfield I've had the pleasure of getting astride to date. And the combination of a whole new engine and completely unconventional riding position was enough to take the excitement up several notches. The detail in the design and the components used shows the effort taken to set it apart from the rest and stand out of the crowd by a margin as big as that fuel tank. The leather seat, smartly finished with double-red stitching, is quite comfortable. However, the forward-biased riding position is typically Café Racer and that sort of puts an end to any thoughts of touring long and hard on this machine. But get on with it, and you realise that this particular Enfield loves the open road, and doesn't mind the corners either.
Out on the road, the Continental GT further amplifies its uniqueness to the range by responding quicker and with greater grunt. The gear shifts are extremely smooth and there is complete absence of any clunking. It's as easy to ride at low speeds as it is at triple-digit speeds. Stability isn't an issue even at speeds above 100 km/h and the incredibly reassuring brakes give you peace of mind. However, the suspension is quite firm, making you keep an eye on potholes. You do not want to thud this one around. At the same time, that makes it better to throw into the corners. The rubber is sticky and offers good grip. And then there are the rear-set foot-pegs, egging you on to try harder to get them to scrape as you lean in.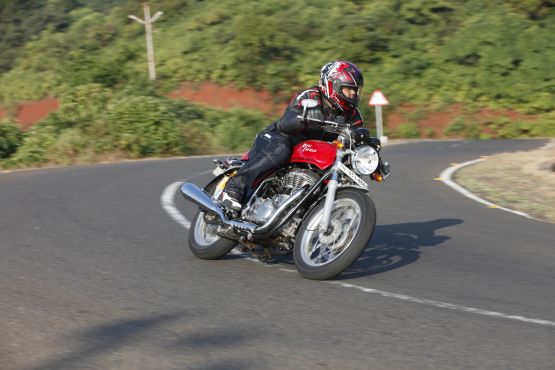 Stay on the road for a while and the engine's refinement becomes apparent too. It's quite smooth and, surprisingly, vibe-free till about 3,500 RPM, at which point you are doing close to 100 km/h. Get past that and the vibrations set in, and trying to hit top speed becomes rather dramatic. However, that is an aspect which made me smile. What kind of Enfield doesn't vibrate and rattle your bones at 4,000 RPM? That's how it should be. The added power and torque are always welcome.
On sweeping curves and on tight hairpins, the GT feels as if it has more to offer, but that's where you start to feel the weight. At 184 kg, the GT may be the lightest production Enfield, but it really isn't light per se. But, it does handle itself well and lets you go out and try to explore the limits of performance. Another reassuring aspect is the braking. The brakes are by far the best setup on any Enfield I've ridden, the big Brembo discs and fat Pirelli rubber make short work of shedding speed and without drama too. Our test confirmed it needed just 2.14 seconds to get from 80 km/h to standstill. 100 km/h to naught also took an equally scant 2.8 seconds.
Now on to the thirst part. A big 535-cc single isn't going to win any efficiency awards, but we don't think the GT did too badly in that department either. Bike India Editor Aspi Bhathena also had a go and came back impressed. He says the Continental GT is a much better bike to ride than most of the British classics, including offerings from the likes of BSA and Norton.
All said and done, the Continental GT is the essential classic. It is the fun and competitive side of Royal Enfield personified, and looks set to take the company forward. It does have its quirks and niggles, but if you are someone who has one or more Royal Enfield motorcycles, this one just has to find a place in your garage.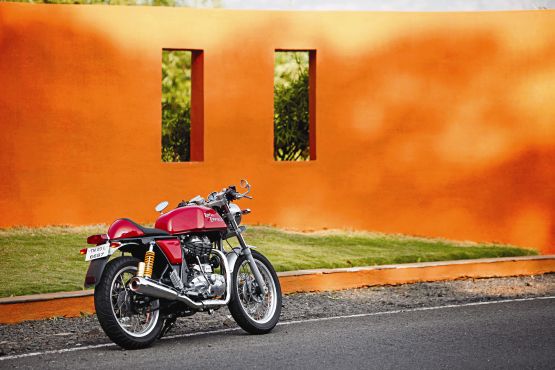 Catch our video review right here: