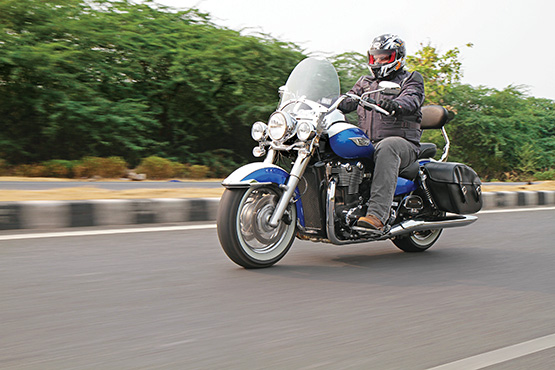 It is big, butch and moves as if it's on rails. Ladies and gentlemen, we ride the Triumph Thunderbird LT
Story: Ravi Chandnani
Photography: Rommel Albuquerque
It's intimidating, this overly chrome-laden Triumph Thunderbird LT (Light Touring). It is big, has white-wall tyres, wide bars, a huge tank, a massive twin-cylinder engine, and a lot of chrome to put American bling to shame. But it's essentially a British motorcycle that has so obsessively engulfed itself in the American dream that it hardly looks British. But that is exactly what Triumph were aiming for. They wanted to woo the Yanks with something completely over-the-top and the LT does that with extreme finesse.
It's like complex fusion cuisine; a beautiful mix of two very different cultures. It is an enriching concoction with superb ingredients such as brilliant British engineering well-treated with excessive American zing and finely plated by a British company which now serves it in India. And it's YUM!
It has got all the right elements of a true-blue American cruiser. Sickening amount of chrome, a menacing stance and then there is the world's biggest parallel-twin motor that powers this beautiful depiction of a sophisticated long-haul touring machine. Besides, it's heavy like a freight train on two-wheels.
As I was gazing at this giant, which had occupied the parking space for a small car, I was magically transported back to the 1950s. I wasn't born then, but those huge handlebars, leather saddle-bags, wide and comfy saddle, enormous speedo cluster on the massive tank, beautiful two-tone colour scheme, metal fenders, wire wheels and classic white-wall AVON tyres painted a fairly reasonable image of the glorious era when these bikes dominated the minds and souls of many bikers all over the world.
I was brought back to reality when the sound of chaotic Gurgaon traffic hit my ears. It was time for me to get astride the LT and face the jarring reality called Indian traffic. I quickly settled in the comfy saddle with both my feet firmly on the ground. Saddle height is perfect and even shorter riders would face no problem in reaching terra firma while being seated on this monster. Ergonomics are brilliant as well. You don't have to stretch your limbs to reach the bars or the wide foot-boards. Everything simply falls in place just the way it should.
I thumbed that starter button to turn the massive engine on to hear the majestic sound emitted by those gleaming chrome exhaust pipes. But to my surprise, it did not sound majestic at all. It sounded rather sedate as if Triumph forgot that the Americans, and many Indians, like motorcycles that would scare the living daylights out of their neighbours. However, it did sound good when I dialled in the revs, though most of the time it was just a faint thumping sound my ears had to be content with.