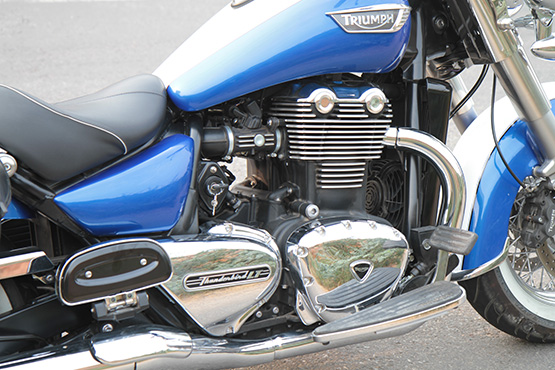 It may not have moved my soul with its sound, but I was blown away by its massive liquid-cooled, 1,699-cc, parallel-twin motor – the biggest motorcycle engine of its type in the world. If it's massive you are thinking about, then this engine has it all. Generous amount of chrome on every visible highlight of the engine like the crank cover, cylinder-head and even on the intake manifold. But what left me awestruck was the torque, a whopping 151 Newton metres of it. Even small petrol cars in India don't have so much of it. The power output is 94 PS, but it's the torque that eclipses the power output. It's available from as low as 3,550 revolutions per minute, and, thanks to this great low-end grunt and the superb throttle response, riding this big bike in town becomes an effortless and enjoyable task. Acceleration is smooth as I found out. Just a slight input from my right hand was enough to send this monster on a speed frenzy in a rather civil manner. Slick six-speed gearbox is superb with its positive shifts and a light clutch. And it didn't sink my heart with a thunderous crunch every time I shifted, very unlike the Americans.
On the highway, I was cruising at 120 km/h in the sixth gear without feeling the sensation or the vibration of a parallel twin. It's that smooth. There were vibrations that crept in when I twisted the throttle hard, but it hardly bothered me.
The LT surges ahead with great might, thanks to its 151 Nm of torque, which endows it with great performance. I worked my right hand a bit and before I knew it, I was cruising down the Gurgaon-Faridabad road at a good 150 km/h. Overtaking was also very easy thanks to the bike's strong roll-on performance. Braking duties are divided between the twin, four-pot Nissin callipers up front and two-pot single Brembo calliper at the rear.