Parked in front of the breakfast joint where we had stopped about 45 minutes away from Pune, the two bikes made an odd pair. The Royal Enfield Continental GT, resplendent in bright crimson, with its slightly low-set handlebars, rear-set foot-rests, elongated petrol tank and bar-end mirrors was a quintessential British café racer. The low-slung Harley-Davidson Street 750, on the other hand, was certainly a street bike that could easily double up as a compact cruiser. Despite their very different visual appeal, they formed an endearing duo. There's something about both these bikes that make you like at least one of them, if not both. Besides, there's no denying the aura of a century-old legacy surrounding both.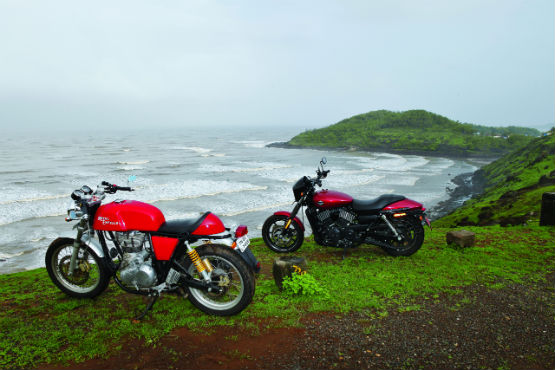 They are equally significant bikes as well. The Continental GT is the bike with which Royal Enfield, now an entirely Indian brand, hope to break it big into the export market with the offer of what they say is the definitive classic sports motorcycle. The Street 750, on the other hand, is the motorcycle with which Harley hope to break through into the cash-rich South Asian market. They are also new products that have been comprehensively designed from scratch. In the case of the Continental GT, this is for the first time Royal Enfield have an all-new frame to boast of in over half-a-century of their existence. In the Harley's case, both the chassis and the engine of the Street 750 are ground up developments. Indeed, this is the first significant case of engine development at the US manufacturer's in over a decade.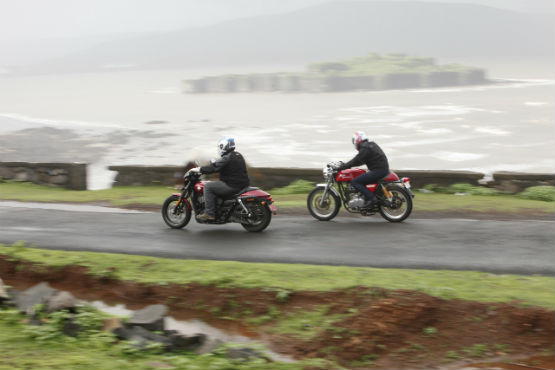 On the twisty well-surfaced two-lane road leading from Pune to Murud via Mulshi and Tamhini, these were equally enjoyable in their own rights. The Continental GT was nimble, and on short straights there was enough grunt at the low and mid ends of the rev range to power out of bends with a wide grin plastered on our face. The rapid staccato thud from the upswept exhaust pipe of the bike's 535-cc single only added to the experience. As you twisted and turned through the sweeping corners of the glistening ribbon that was the wet tarmac after a fresh shower, it was easy to be transported back in time and imagine that you were one of those Rockers of yore riding through the windy arterial roads of Britain in the 1950s.