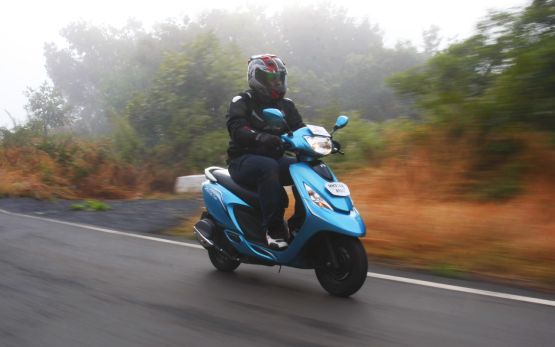 This is what the TVS Scooty Zest 110 has been up to in the past couple of weeks post its service.
Alright, so a 110-cc scooter may not be a heavyweight in the global power scooter scenario, or even in India (with the likes of the Aprilia SRV 850 around), but it can sure handle more than its fair share of payload.
After the Zest came back from service about two weeks ago, it lived in peace for the next few days. A week later, however, two of our most physically-gifted staffers decided to run office errands, and the bike of choice, no surprise there, the Scooty Zest 110.
Now, I weigh in at above 90 kays, and I've witnessed first hand the agility and capability of the Zest 110. It's always wowed me and never felt slow or lacking in any way whatsoever. This time round, it was time for me to have my jaw dropped yet again. With a payload of about 220 kilos, the Zest went on with its business, those eight horses put their shiniest running shoes on and, mustering up all they had, probably, rather easily managed the trip with absolutely no hiccups. Even so, it didn't feel all that different when I took it home that evening.
Impressive to say the least, the Zest 110 feels every bit the lightweight scooter, but can surely hold its own with heavyweights on board.
– Jim Gorde