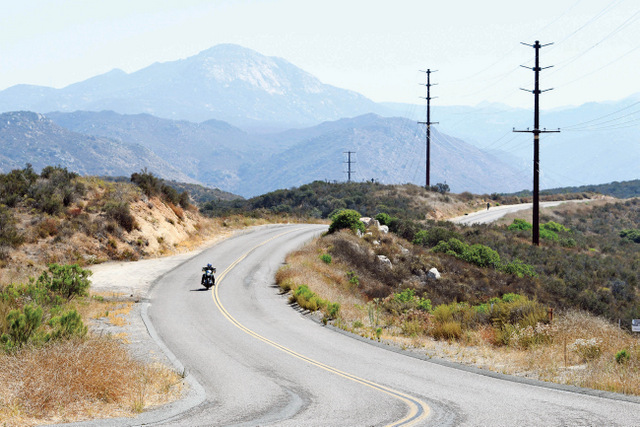 Harley are positioning the Low Rider — and, consequently, the S — as an urban weapon, perfect for taming the streets of California (or Calcutta or any other streets from places whose names start with any other letter), so it gets a very un-Harley-like riding position. The bars are fine, high-rise, and within easy reach. The saddle is nice and low (690 mm off the ground, unladen) and offers a comfortable perch. The weird thing is the positioning of the pegs. They are mid-mounted, which means your knees end up in an awkwardly folded position that sees them in line with your elbows, rather than stretched out in comfort over forward-mounted pegs as they should be on your conventional Bar-and-Shield badged bike. Not something I got used to as the ride progressed either.
Another near-instant irritant was the dials. They are basic and easy to read in the conventional sense. Even with the sun over your head, you could easily decipher the time and fuel levels and all rev count and all that jazz. However, as I mentioned earlier, they are mounted on the tank. Now that poses a problem, as the roads in the US are closely monitored and heavily fined in terms of speed limits. So, having to look up at the signboards and then back down to check my current speed was quite annoying.
The counter-point to said annoyance, though, was the instantaneous torque from low down that keeps you entertained from the get-go. She makes good sounds, too, growling and throbbing as you modulate the throttle, letting everyone know a Harley is on the prowl. The well-weighted clutch and characteristic Harley pronounced shift is present and correct. And you find yourself quickly hustling through the gearbox and thundering down the highway (speed limits permitting, of course). I found that cruising on the highway at 60+ mph (over 100 km/h) was fairly easy. Anything over and above that, though, and turbulence becomes a factor. This, in conjunction with the riding posture, means the Low Rider S isn't something you'd want to take long-distance touring.
It is pretty damn great as a weekend canyon carver, though. It isn't the lightest on its feet, mind, with a kerb weight of 308 kg, and with lean angles of just over 30 degrees on either side, you will find your pegs dragging along the tarmac before long. But, oh, what fun it is to get to arrive at that peg-scraper threshold. Consistent, predictable, and stable through the length of the bend, the Low Rider S proved to be quite a blast in the hills outside San Diego.