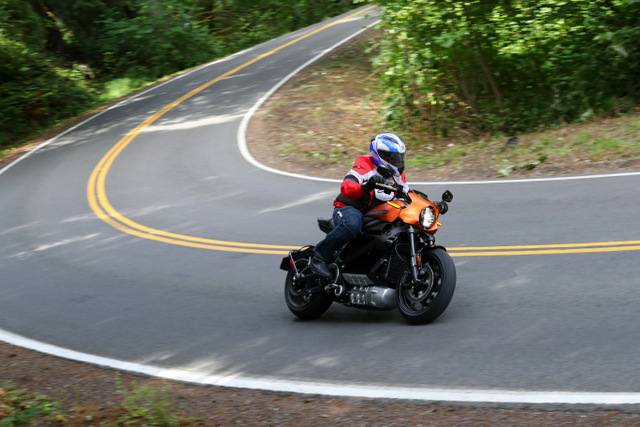 You can track the available range, choose riding modes, monitor temperatures, and a whole lot more through the aforementioned 4.3-inch TFT display and toggle through seven riding modes to choose from, through the accompanying switchgear set-up. You can change traction control (three levels) or turn it off completely, adjust the throttle response to suit your needs, and even set up the regen to whatever level you deem appropriate. Sport mode offers max performance and regen with low traction control involvement, Road mode offers a more tempered approach in terms of these parameters, Range mode, as the name suggests, is set up to help eke out the most miles from the bike, and Rain mode keeps performance and regen in check for those slippery surfaces. There are also three custom modes available whereby you can have different set-ups dialled in as per your whims and fancies.
The relatively rear-set foot-pegs (for a Harley anyway) and flat handlebar lends the LiveWire rider a slightly aggressive posture and a quick dab of a button fires up the motor. Since it is an EV, the brand has introduced a Haptic Pulse at idle. This is a faint beat you feel in the handlebars and through the seat to let you know the bike is on and it disappears as soon as you twist the throttle.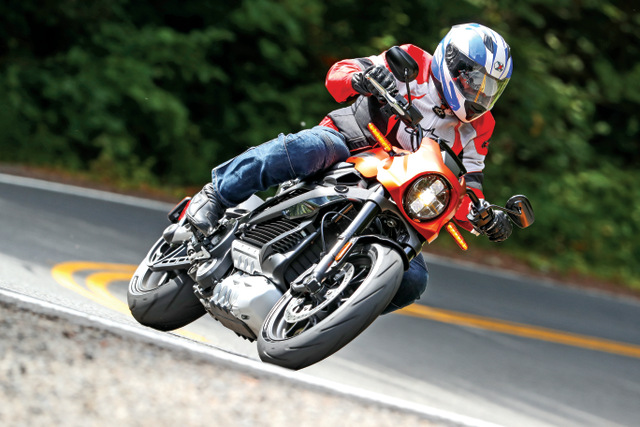 The acceleration on this bike is stupendously linear with no need to hustle through the gears, and all that low-down torque and power propel you forward with almost unnerving alacrity. The electronic nannies do their job well, keeping things in check as the speedo rapidly climbs and in lieu of an exhaust note you have this subtle jet-engine-meets-wind-turbine whine that is quite delightful, if slightly alien when you first hear it.
The ride on the LiveWire is set up on the firmer side as stock, but full adjustability means you can soften it up by a few notches to provide better absorption on fractured tarmac. The firm ride along with the placement of the motor low down and the sharp rake angle mean the LiveWire is quite agile in corners, allowing you to take full advantage of the 45-degree lean angle. You can feel the bike's 249 kg during slower manoeuvres, but it isn't a hindrance when you corner hard.
The bespoke Michelin Scorcher Sport tyres (120/70 ZR17 up front, 180/55 ZR17 at the rear) also contribute to the LiveWire's handling capabilities. The braking set-up rises to the occasion when called upon as well, providing more than adequate stopping power when put into use. The position of the rear brake lever slightly favours the instep and takes some getting used to, though.