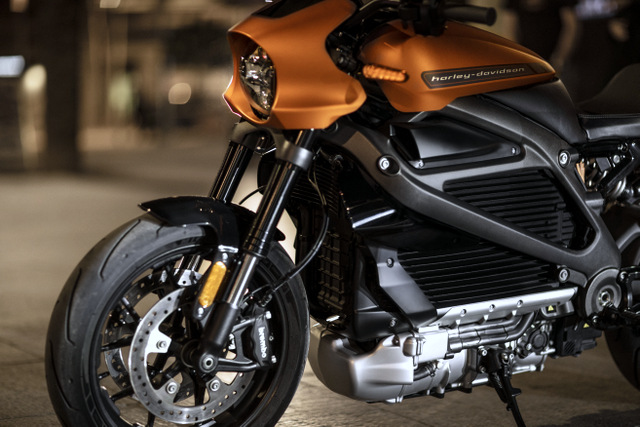 But what lurks underneath those (mostly) good looks? Well, let's start with the heart or, in this case, the electric pacemaker. The 15.5-kW high-voltage battery is mated to a permanent-magnet electric motor and a single-speed belt-driven transmission, the latter bringing in at least one aspect of that traditional H-D mechanical make-up. The lithium-ion cell stack is housed in a blacked-out cast aluminium frame and sports traditional cooling fins that actually help keep temperature levels down. This, in conjunction with the shiny motor suspended on an aluminium cast frame with a swing-arm consisting of the same metal composition, lends the LiveWire its unique, futuristic aesthetic. The motor churns out 105 hp and 114 Nm of torque, both of which are available in full capacity from just over 0 rpm — typical of an EV machine — and the mill revs all the way to 15,000 rpm. In terms of performance, that translates into a claimed 0-60 mph (96.6 km/h) time of just three seconds and a top speed of 177 km/h.
The Showa suspension set-up uses beefy 43-mm inverted front forks and a monoshock of the same make at the rear, both of which are fully adjustable. Braking comes from a radial-mounted 300-mm Brembo dual four-piston set-up up front and a 220-mm dual-piston set-up at the rear. H-D also offer their Reflex Defensive Rider Systems (RDRS) as standard on this bike. This includes cornering ABS, a cornering-enhanced traction control system, front wheel lift mitigation, and Drag-Torque Slip Control System (DSCS) which prevents rear-wheel lock during regenerative braking.
The LiveWire also offers a claimed range of 235 km in the city and 152 km with some blistering highway riding tossed into the mix. This range is aided and abetted by the battery's Rechargeable Energy Storage System or RESS. RESS allows for power regeneration during deceleration, with the added benefit of offering an effect akin to engine-braking when you get off the throttle and begin to coast.