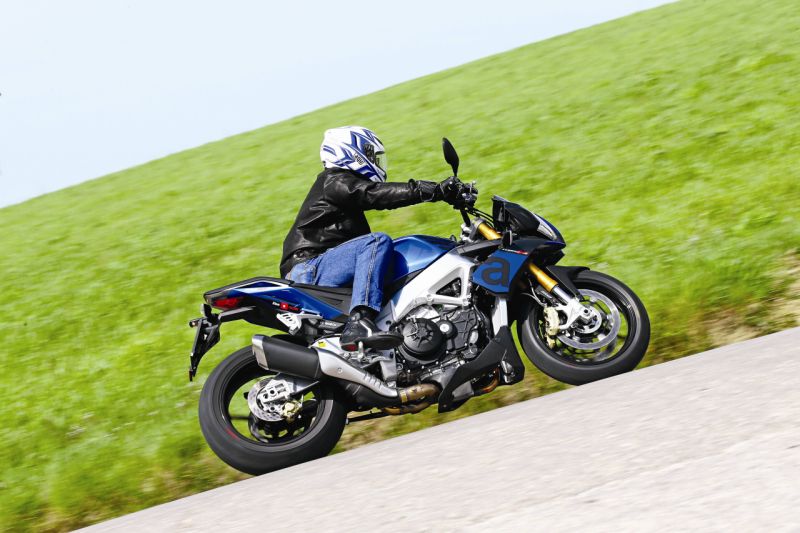 That was not always their goal. When the Italian firm decided to upgrade the naked V4 road-burner for 2015, the development team's initial aim was to bolt in the engine from the previous RSV4, in all its high-revving, 180-PS glory. That would have been a relatively easy way of boosting performance and matching the claimed output of KTM's 1290 Super Duke R to share the title of world's most powerful super-naked.
But then they had second thoughts, and decided that extra peak power wasn't the answer, and that a more refined and rider-friendly update was required. So as well as tweaking the chassis, revising the riding position, updating the electronics and sharpening the styling, they went to work on the 65-degree V4 engine, increasing the bore from 78 to 81 millimetres to enlarge capacity from 999 to 1,077 cubic centimetres.
The resultant Tuono V4 1100 has a five-PS power increase that takes the maximum to 175 PS at 11,000 revolutions per minute. But that wasn't Aprilia's main motivation for the enhanced capacity. More importantly, low-rev response has been made smoother, and the mid-range output has been boosted to give a significant extra 20-PS at 8,000 RPM.
There's more to the new 16-valve engine than its extra cubes, which bring cylinder dimensions to an over-square 81 x 52.3 mm. Elsewhere the mods are aimed at reducing size or weight, including lightened crankcases, smaller and lighter piston pins, lighter Pankl con-rods, plus a re-designed crankcase ventilation system to reduce power loss due to air pressure.
As I crack open the Tuono's throttle on the exit of a typically tight bend in the hills inland from Misano, I'm not sure how much the extra capacity is helping but I'm in no doubt that the Aprilia is one hell of a weapon. The big motor revs with fierce yet deliciously controllable force, the bike leaping forward with an unmistakable V4 growl from its silencer and the wide handlebar twitching slightly as the front wheel goes light.