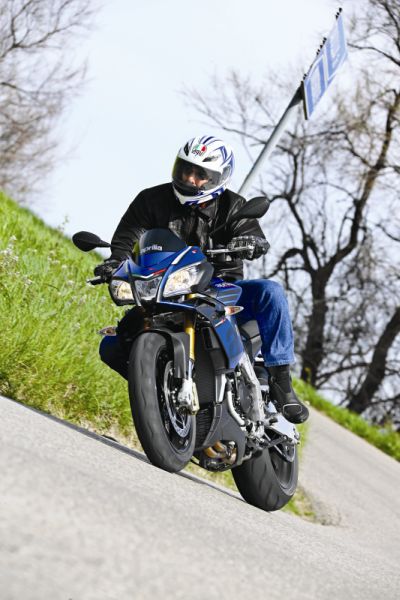 The Tuono is quick, all right, and on these roads its sophistication is as important as its power. The flawless throttle response and cutting-edge electronics combine to help keep it between the hedges as I short-shift through the box, the quick-shifter notching gears seamlessly… but I'm barely into fourth when it's time to haul on the fiercely powerful Brembos for another tight turn, and begin the process all over again.
One of the Tuono V4's biggest assets has always been that the super-naked model shares the electronic wizardry of the RSV4 on which it's based, and that very much remains true. The APRC (Aprilia Performance Ride Control) system is updated with a more powerful ECU that gives a choice from three engine maps, including a new track-oriented 'Race' setting with reduced engine braking.
Most APRC features are refined but the list of acronyms is unchanged: ATC traction control, adjustable through eight settings via buttons on the left handlebar; AWC wheelie control, ALC launch control and AQS quick-shifter, all of which are further refined, although, like the RSV4's, the shifter still doesn't work on down-changes.
The chassis is also tweaked along similar lines to that of the latest RSV4, notably with the aluminium twin-spar frame being modified to steepen steering geometry slightly, while the swing-arm — also a seriously stiff aluminium construction — is lengthened by four mm. The standard Tuono V4 1100 RR gets Sachs suspension and steering damper, while the upmarket Factory model has Öhlins kit that adds about 10 per cent to its price.
Both models would doubtless have been very well-suited to the smooth, mostly fast turns back at Misano, but, unlike the last two Tuono V4 launches, this one doesn't involve any track riding. Instead I'm bouncing along the back-roads on an 1100 RR with just 110 mm of front suspension travel and 130 mm at the rear, struggling to get some heat into the Pirelli Diablo Rosso Corsa rubber on roads that are frequently as dusty as they're potholed. On these roads semi-active suspension would have allowed a more complaint ride without loss of control; maybe next time.