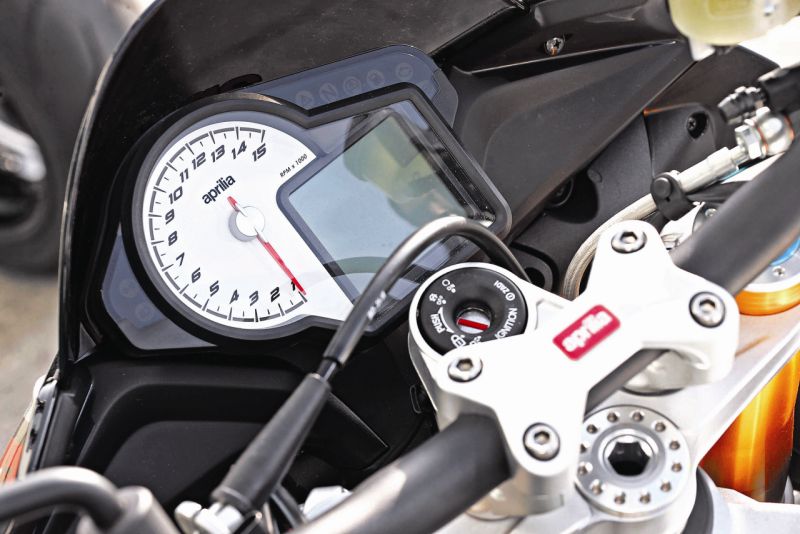 I didn't have any need of the new 'Race' riding mode but both 'Track' and 'Sport' gave very smooth delivery. And at least the tricky conditions emphasised what a good job Aprilia's engineers have done to the fuelling. For such a powerful bike the Tuono was impressively easy to ride, and with its upright riding position and reasonably low seat – 15 mm lower, at 825 mm – it would make an improbably good town bike.
The revised chassis was also impressive, the Tuono's light weight (184 kg dry) and slightly steeper geometry helping it steer through those tight turns with minimal pressure on the wide handlebar, and the slightly longer wheelbase doubtless helping keep it stable, while not preventing the wheelies that are so effortlessly possible with the traction control on its lower setting.
Predictably, the front brake blend of 320-mm discs and Brembo Monobloc callipers gave ferocious stopping, although I was surprised that the Bosch ABS cut in quite regularly before I switched it from the second, road-based setting to the less intrusive track setting. After that it worked very well.
As we rode back through the Misano circuit gate I was disappointed that we were ending the test, rather than continuing it on the track that would really have allowed the V4 1100 to shine. We'd also have had a chance to get near its top speed of around 280 km/h, though not without some neck-ache because the re-designed half-fairing, which holds new lights (which save 1.5 kg of weight), doesn't give much wind protection.
Even so, there's still surely no super-naked that is better suited to serious speed. This updated Aprilia is a more flexible and refined street bike than its predecessor, and in no way has it gone soft, even remotely. At heart it's still a lean, powerful and aggressive stripped-down superbike that is as at home on a racetrack as on a bumpy back-road.