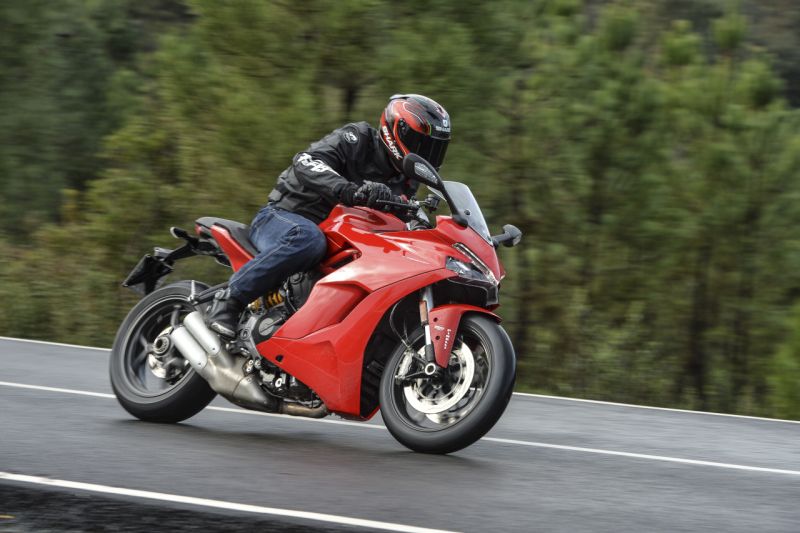 A first ride in the hills near Seville in southern Spain did much to underscore the Ducati SuperSport's penchant for commuting and sports-touring as well as going fast. Here is how the bike revealed its attributes.

Story: Roland Brown
Photography: Milagro
On many super-sports bikes this ride would be getting uncomfortable and annoying by now. I'm on a twisty back-road in the hills near Seville in the south of Spain, and for the last few miles the surface, which was superb for most of the ride, has been more like something suited to an adventure bike launch: bumpy, pot-holed and made slippery by occasional patches of gravel as well as dampness from recent rain.
This is hardly traditional Ducati country, but the SuperSport is handling the tricky conditions well. Or, at least, its relatively high handlebars and compliant suspension are making this part of the ride much more enjoyable than it would be on plenty of sports machines, while the 937-cc V-twin engine's flexible response and gentle power delivery, backed up by traction control and ABS, are making the bike improbably easy to ride.
Improbably easy, that is, only if you take one look at the SuperSport's name and sleek, fully-faired shape, and expect this latest V-twin to be a hardcore, track-focused weapon like its similarly styled Panigale stable-mates. Because this Ducati is subtly different: designed for commuting and sports-touring as well as going fast; and intended as a more versatile and rider-friendly entry into the world of Bolognese sports models.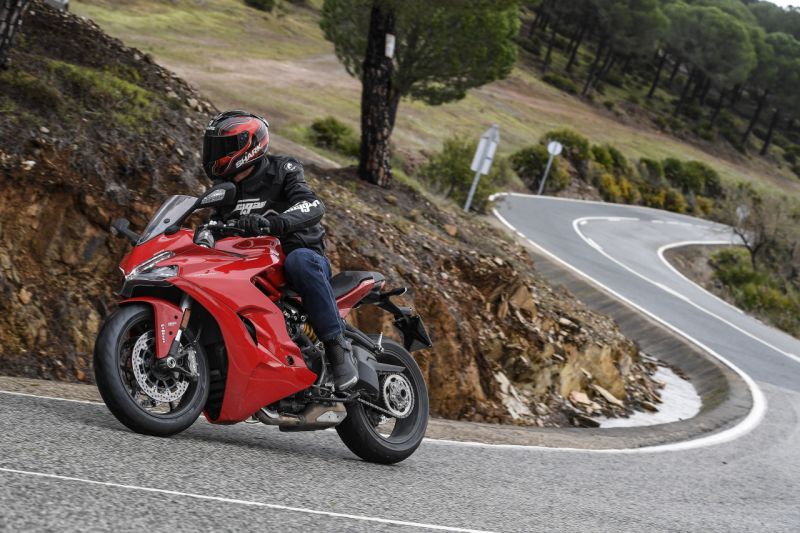 In this respect its SuperSport name, initially slightly confusing, is following a Ducati tradition. Sure, the famous bevel-drive 750 and 900 Super Sport of the 1970s were uncompromising street racers. But when the name was revived in the late '80s it was for the 900 Super Sport: a relatively simple, inexpensive air-cooled V-twin alternative to the eight-valve 851. The new SuperSport is much more sophisticated but has a similar role, as a more road-biased and affordable alternative to the 959 and 1299 Panigale.
There's certainly a distinct Panigale look to the new bike's sleek, fully-faired shape, with its low screen, clip-on handlebars, slim seat unit, and glimpses of a black-finished V-twin engine. But closer examination reveals that the screen can be raised to increase wind protection, and the clip-on bars, bolted above the top triple-clamp, rise a few more centimetres to give a much more upright riding position than the Panigale's racy crouch.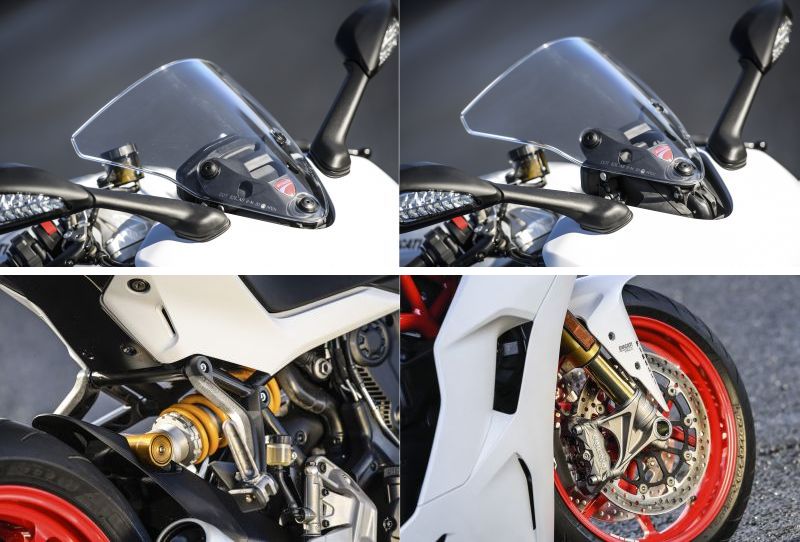 The SuperSport comes in two varieties. The standard model, finished in Ducati's traditional red with black wheels, has fully-adjustable Marzocchi forks and a Sachs rear shock that is adjustable for preload and rebound damping. The upmarket SuperSport S, which comes in the same paintwork or in white with red wheels, wears fully-adjustable Öhlins units at both ends, and includes the two-way quick-shifter and colour-matched pillion seat-cover that cost extra with the standard bike. (Also read: Ducati SuperSport launched in India at Rs 12.08 lakh)
In other respects the two models are identical, both powered by the Testastretta 11 degree engine as fitted to the Hypermotard and Multistrada 950. The liquid-cooled, eight-valve desmo lump's core components are unchanged but it has a new ride-by-wire system and a twin-silencer exhaust. If the maximum output of 113 PS at 9,000 rpm sounds unspectacular, bear in mind that Ducati's legendary 916 flagship made an almost identical amount, which seemed like plenty at the time.
(Head to: SuperSport S Review)