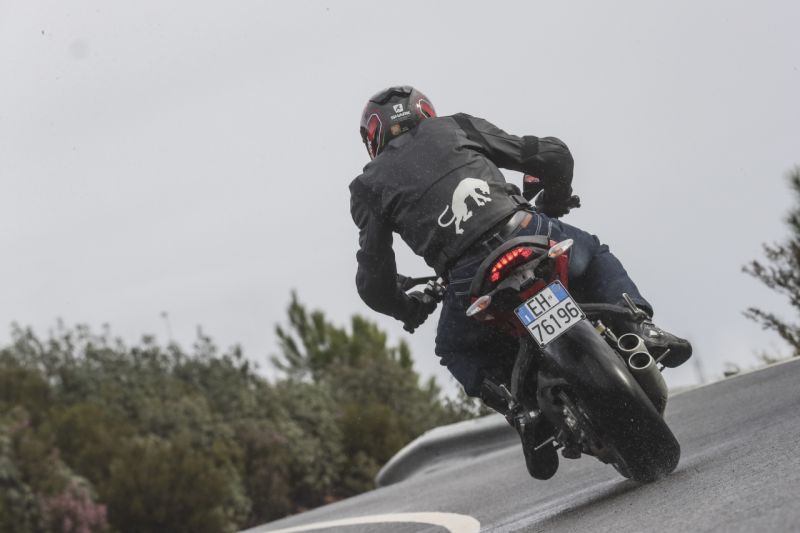 But the two Ducatis really aren't all that far apart in those statistics, and the SuperSport's steering geometry is actually slightly sportier than the 959's. Like the smaller Panigale it also has a relatively slim, 180-section rear tyre, a Pirelli Diablo Rosso III, that found plenty of grip on the damp roads, and also doubtless contributed to the light, accurate steering that made the bike easy to flick through the mostly blind turns in the hills north-west of Seville.
On a few occasions the Ducati needed slightly more pressure on the bars than I'd have hoped for in order to make a tight turn, but that was probably just because I wasn't braking very hard into the greasy looking bends, so the Marzocchi forks weren't compressing much. Harder braking on dry roads would doubtless have sorted that and, in any case, the suspension has enough adjustability that I could have softened the front (or firmed up the rear) easily enough if it had been remotely necessary.
In fact, I could brake pretty hard when required, thanks not only to the powerful Brembo setup of 320-mm front discs and Monobloc callipers, but also to the typically efficient Bosch ABS system, which automatically changes through three settings depending on the riding mode selected. So too does the eight-way adjustable traction control system, which was good to have in the background, although it's a relatively simple system based on wheel speed, rather than a sophisticated setup controlled by an IMU.
I suppose the benefit of a 1299 Panigale S, or better still a Multistrada 1200S, with their semi-active suspension would have been clear when the road surface took a turn for the worse, and even the SuperSport's compliant suspension couldn't completely iron out the bumps. After 10 minutes or so I had slight wrist-ache, despite the upright riding position, but it would almost certainly have been worse on most sports bikes.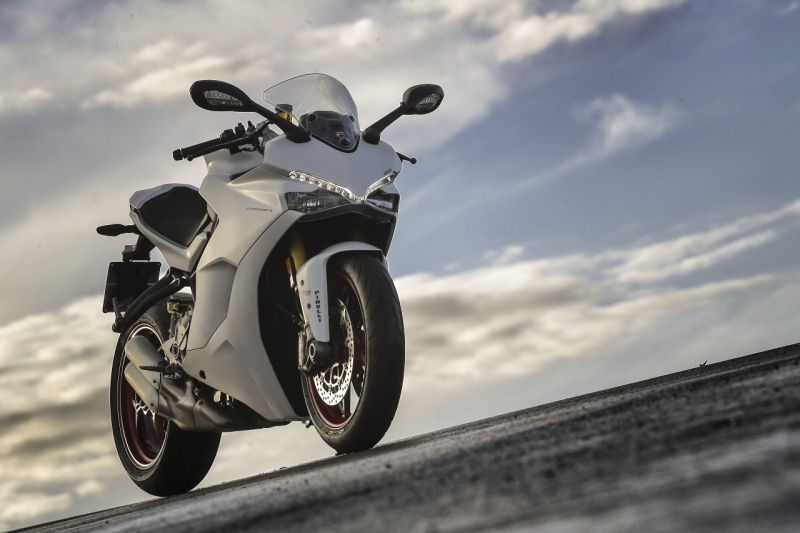 The Ducati was also proving respectably comfortable in other respects, its ample legroom — similar to that of the Monster 851, and more than the Panigales — ensuring that my legs didn't feel cramped even though I'm tall. That's also despite the fact that, at 810 mm, the seat is 20 mm lower than the 959's, and also slim enough to help make the bike manoeuvrable at low speed.
More steering lock would be useful in town, but the SuperSport just about lived up to Ducati's claim that it's capable of being an everyday commuter bike. Shame the fuel capacity is a stingy 16 litres which, given the indicated launch average of 8.0 litres/100 km, would mean a realistic range of well below 200 km. At least the service intervals are typically long, at 15,000 km for minor ones and double that for the desmo valvegear.
Accessories could add considerably to the SuperSport's appeal, too, with the Touring Pack of heated grips, taller smoked screen and respectably large (22 litres each) panniers looking the most useful. There are also higher and lower seat options, plus bolt-on grab-handles that would make life easier for a pillion, who gets fairly generous legroom by sports-bike standards. And there's a typical range of sporty extras, including carbon-fibre and aluminium bits, plus a classy Termignoni system with twin under-seat silencers.
It adds up to a bike that doesn't push Ducati performance to new limits in any direction, and isn't cheap to buy, but does a good job of filling the considerable gap between the mid-sized Panigale and Multistrada — arguably providing what many road riders would consider the best of both worlds. Ducati sports bikes are traditionally bought with the heart, not the head. The SuperSport generates enough excitement to get the ticker beating faster, and it also makes plenty of sense.