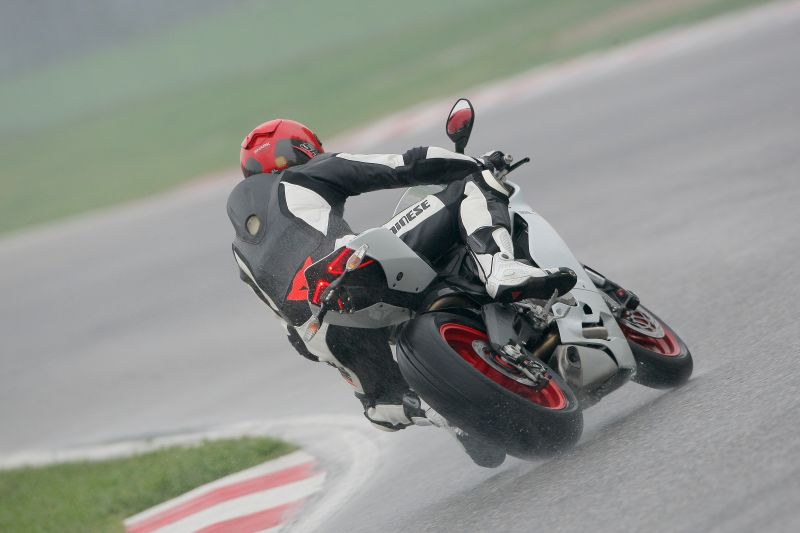 The Ducati certainly steered very sharply and accurately through Imola's chicanes, and railed through the faster curves feeling very stable. Without riding it on dry tarmac it's impossible to know how well its suspension would have coped, although the Showa BPFs and the Sachs shock unit are tried and multi-adjustable components that should be very much up to the job.
One chassis part that did have a chance to shine was the front brake, which even in the wet was superbly powerful, backed up by the grippy front Pirelli and the ABS system. I found it really useful to be able to give the lever a good squeeze, not only knowing I could stop hard in a straight line — often considerably harder than I'd have guessed — but using the ABS to test the track's grip level without risking a crash. The 899's ABS system is not quite as sophisticated as the 1199's, having one sensor instead of four, but still worked superbly well.
Both the ABS and the softer suspension would be welcome features on the road, where the 899 offers a few more advantages over its 848 EVO predecessor. At 17 litres its tank is a useful 1.5 litres bigger, which should increase practical range to almost 250 km. Ergonomics are also slightly more relaxed, which should improve comfort. Despite being tall I found the bike reasonably roomy, but wasn't the only rider to find my boot occasionally slipping off a too-smooth footrest in the wet.
Despite that and the generally damp and weather-shortened day, I left Imola even more impressed by the Ducati than I'd expected to be. Although the 899 can't match the larger-capacity Panigale's awesome power output and acceleration, it has more than enough of both for the street coupled with potential to be an excellent track-day bike too.
The 899 is not just a less powerful and desirable version of the 1199, but a fast and capable superbike that would arguably be better suited to many riders, especially for road-going use. Although far from cheap, it also offers a considerable price saving and looks like a tempting compromise. It's very possibly the best, most complete sports bike that Ducati have yet produced.
Story: Roland Brown
Images Courtesy: Milagro