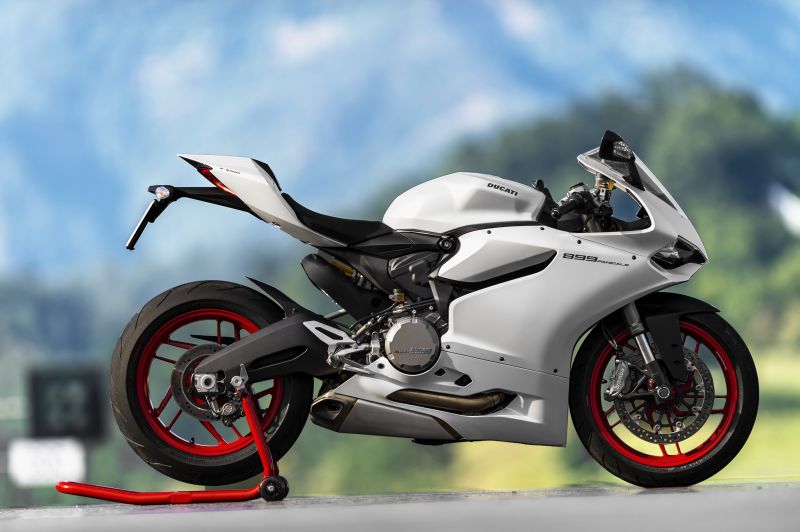 The 898-cc, eight-valve desmo V-twin engine follows the Superquadro format, with dimensions of 100 x 57.2 mm that mean it's almost as radically oversquare as the 1,198-cc unit (with bore/stroke ratio of 1.75 instead of 1.84). Other Panigale features include the cam drive by chain and gear, rather than belt as on the 848, and the flyweight that acts as a decompressor at low revs, allowing a smaller starter motor and battery.
Re-designed cylinder-heads include new cams and larger valves than those of the 848. Throttle bodies are also bigger, with 62-mm diameter against the 848's 60 mm (and the 1199's 67.5 mm). The peak output of 150 PS at 10,750 revolutions per minute is eight PS higher, and the new engine makes notably more torque below 6,500 RPM. Its overall gearing is also slightly lower, which, Ducati say, helps give better acceleration from low speeds.
The new engine includes a few cost-cutting measures, such as the use of aluminium instead of magnesium for clutch, cylinder-head and oil-sump covers. But the 899 follows the bigger Panigale by featuring a sophisticated electronics package that includes three riding modes — Race, Sport and Wet — for rapid fine-tuning of power output, throttle response, traction control, engine braking and ABS level.
In similar fashion, the 899's chassis is also very much a Panigale family creation, based on a monocoque aluminium frame that acts as the airbox and uses the engine as a stressed member. The smaller V-twin unit is rotated back slightly, allowing slightly racier steering geometry — rake reduced by half a degree to 24 degrees, trail by four millimetres to 96 mm. Ducati say they can get away with this because the less powerful 899 isn't as wheelie-prone as the 1199.