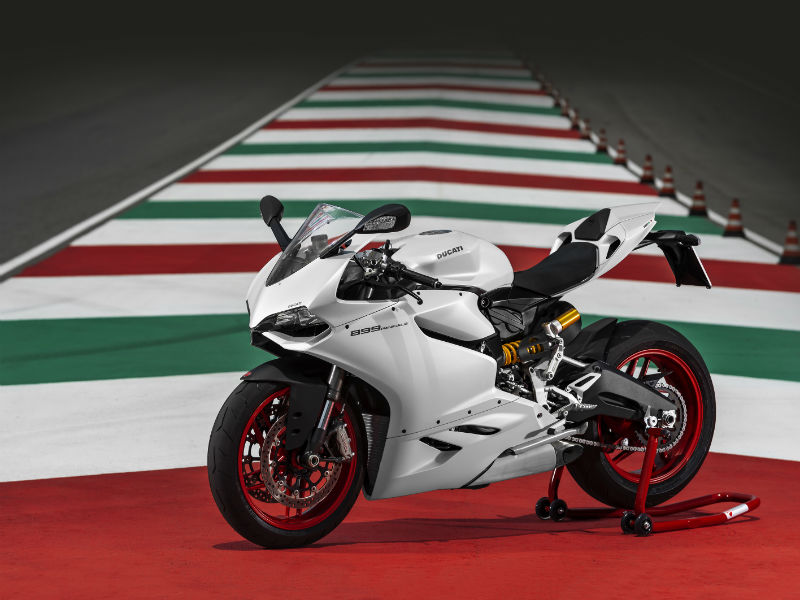 I soon realised that the V-twin's broad spread of torque meant I didn't need to change down all that often. Provided the tacho was showing 7,000 RPM when I wound the power back on, the Ducati accelerated towards the 11,500-RPM limit with a satisfyingly surge, traction control light often flashing — especially when on the relatively high sixth of eight settings — but the rear Pirelli finding improbable amounts of grip.
Inevitably, the wet track meant there was no chance to see what the 899 could really do in a straight line. Selecting the Sport mode generated as much extra wheelspin and traction control action as forward motion, even before the rain started coming down harder, eventually cutting short the test. But there's no doubt that even this so-called baby Panigale is a seriously rapid superbike, with more low-rev grunt than its 848 EVO predecessor, as well as a stronger top-end kick.
That 150 PS maximum should give a top speed of over 260 km/h, pretty super by any standards let along those of a 'middleweight', with a smooth and sweet-revving feel. (It's a measure of Ducati's engine development that the mighty 916 of 20 years ago produced 116 PS, so was 35 PS down on the 899.) Acceleration was also helped by the gearbox, which was impressively slick and aided by the efficient quick-shifter, unlike the notchy 848 EVO that I rode at Imola a couple of years ago.
The chassis was also very impressive, at least as far as the conditions allowed. At 193 kg wet (dripping wet, in this case), the 899 is five kilos heavier than the 1199, but lighter than the 848 EVO despite having ABS as standard. As well as having steeper geometry than the big Panigale, it also has a narrower 180-section (instead of 200) rear tyre that should also aid manoeuvrability. Spring rates at both ends are roughly 10 per cent softer, intended to give a little more road-going comfort, as is the thicker seat.