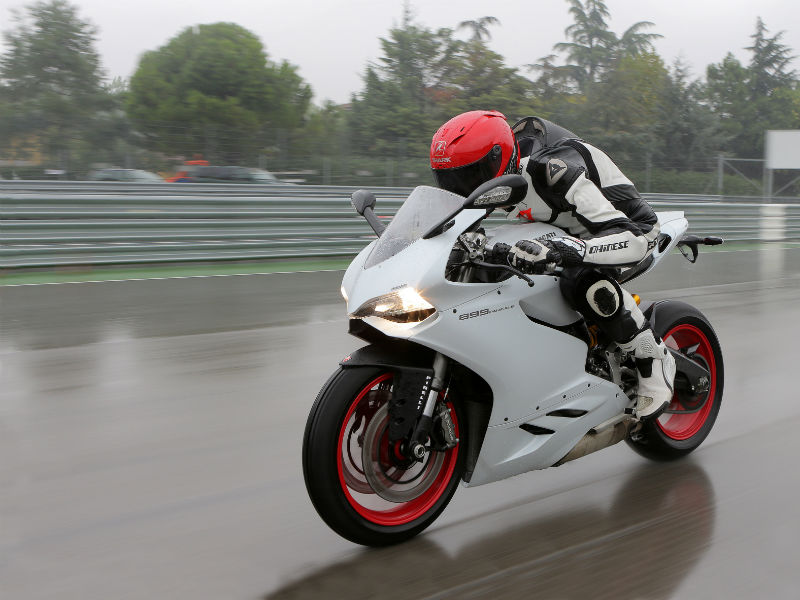 Splashing over the Imola start-line to begin another lap with my head tucked as low as possible behind the screen of the 899 Panigale, it's a big thrill to be astride a powerful Italian superbike on one of that country's most famous and atmospheric circuits. This hot white Ducati has the style, the Panigale name and the intoxicating V-twin sound of the 1199 flagship and, despite the weather, it's proving a blast to ride.
As the rear Pirelli struggles for traction on the straight, and the rain coming off the screen drums against my visor, I know that in these conditions I'm probably lapping very nearly as quickly as I could on the 1199 that began the Panigale line two years ago. But in some ways that's misleading, because the 899 is more different than its name and near-identical look suggest.
The 899 Panigale has been created to be more of a street bike than the 1199. Ducati say the new 'supermid', as they call it, is aimed equally at road and racetrack, while the bigger bike is much more biased towards the track. The 899 is intended to be fast, but unintimidating, to give the rider more of a feeling of dominating the bike than is possible with the ferocious 1199. With its aim of rider-friendliness the new machine also differs subtly from its predecessor, the aggressively rev-happy 848 EVO.
Of course, the 899 is also intended to be more financially accessible than the big Panigale, and to follow the 848 by attracting a wide range of customers, including those stepping up from smaller bikes or moving to Ducati from other brands. It incorporates cost-saving features in both engine and chassis, but retains the Panigale family layout as well as a list of features, including a high-tech electronics package, with quick-shifter and ABS brakes as standard.