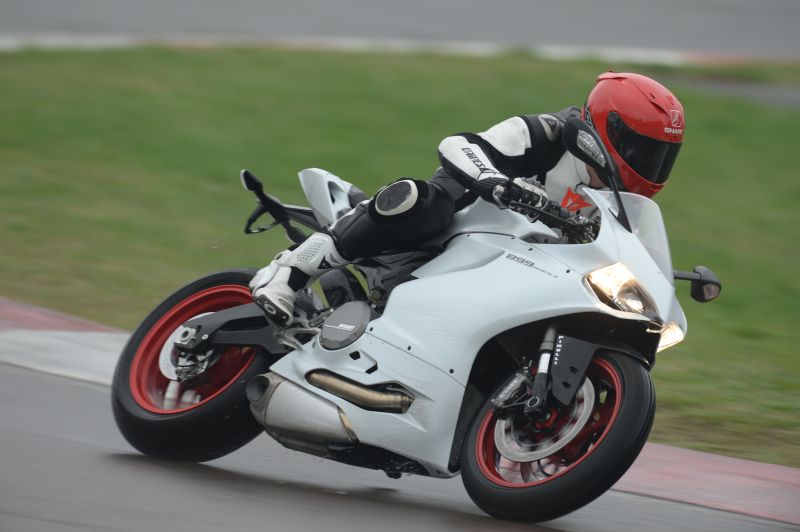 Some expense is saved by using a steel (instead of aluminium) rear sub-frame and a twin- instead of single-sided aluminium swing-arm. Suspension combines Showa's familiar 43-mm Big Piston Forks — used here for the first time on a Ducati — plus a similarly multi-adjustable Sachs monoshock. Front brake callipers are Brembo Monoblocs, but they're the conventional M4 units rather than the 1199's top-spec M50s.
So there are a few slightly less exotic touches if you know where to look for them, but the pearl-white 899s lined up in the Imola pit-lane still looked classy despite the dull weather. Although the new bike's digital instrument panel doesn't have the big Panigale's multi-coloured display, the Ducati felt suitably special as I threw a leg over the fairly high seat (830 mm, five millimetres taller than the 1199's), fired up the pleasingly gruff sounding motor, and let out the light clutch to set off on to the track.
The conditions were far from ideal, but it was still possible to have a lot of fun on the 'Panigalina', as the Italians call the 'baby Panigale'. The bikes had been fitted with Pirelli's racing wets in place of the standard Diablo Rosso Corsas. Even with the engine in Wet mode, which softens throttle response and cuts maximum output to 101 PS, the Ducati felt quick and very controllable.
As I braked and changed down into the Tamburello left-hander for the first time, the rear end slid slightly, a reminder that this bike lacks the 1199's slipper clutch, so I'd need to synchronise down-changes more carefully. Given more time I could have tried adjusting the EBC (Engine Brake Control), which, as on the 1199, uses the ride-by-wire system to balance forces on the rear tyre on deceleration. As with the traction control, its setting changes with engine mode and can also be adjusted independently.