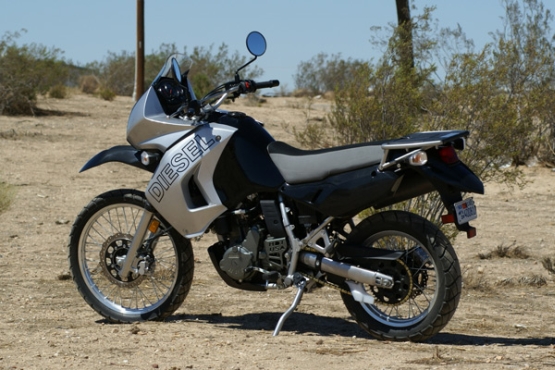 Have you ever wondered if there were still any diesel motorcycles around?
We've all wished for diesel motorcycles at some point of time. Some of us are even aware of the Royal Enfield Taurus, which used a 324cc diesel engine making all of 6.5 PS and 14.5 Nm of torque, but the highlight wasn't the low output or the high vibration levels, it was the fuel economy. A figure of 70 km/l was not surprising to owners and the frugality of the engine would have made it very popular. However, the lack of emission control and outright soot particles were what led to its demise.
However, not all hope is lost, because many are realising that diesel can be a cleaner fuel than even petrol. The amount of torque a diesel engine inherently is endowed with cannot be overlooked. High torque at low revs? Bring it on! Right?
So, this guy Fred Hayes in the US, back in 2005, began converting military Kawasaki KLR650 motorcycles to run diesel fuel. The result was so popular that even the UK military requested conversions. There was even a civilian version made – the MD650A1 Bulldog – which we shall take a look at here.
Housed in a modified Kawasaki KLR650 off-road bike, the diesel motor in question displaces 611cc and makes 30 PS at 5,700 RPM, with a chunky 43.4 Nm coming in at 4,200 RPM. While that may seem low by today's standards, this engine is an Indirect Injection version, and it can only do so much, without engulfing the vicinity in a cloud of black smoke. Modern diesel engines are cleaner and much more efficient, but are also quite expensive to produce. The high injection pressures in direct injection models requires a strong block in the first place. The electronics and engine management systems are complex as well. Which is why, the company (HDT) is now working on a larger, more modern version for civilians, called the Altius Scimitar.
The Altius Scimitar uses a larger 670cc motor and puts out about 12 per cent more power, but even more torque at much lower revs. The civilian version of the bike is cleaner and more efficient, not surprisingly. The current USMC version of the bike makes 40 PS at 5,700 RPM with 61 Nm of peak torque available from as low as 1,200 RPM. The engine redline is over 7,000 RPM and the torque peaks all the way to the end. It can also manage a 0-100 km/h time of 8.6 seconds. The maximum speed is in excess of 165 km/h and the bike can return 45 km/litre when doing a steady 85 km/h. With a 23 litre tank, that's a range of over 1,000 kilometres! Not bad at all, then.
The company is also known to be trying out a 1,000cc V-twin turbo-diesel motor in an ATV which puts out the power and torque of an average Indian family sedan. That engine in a bike? Anyone?
Story: Jim Gorde
Images: dieselbike.net