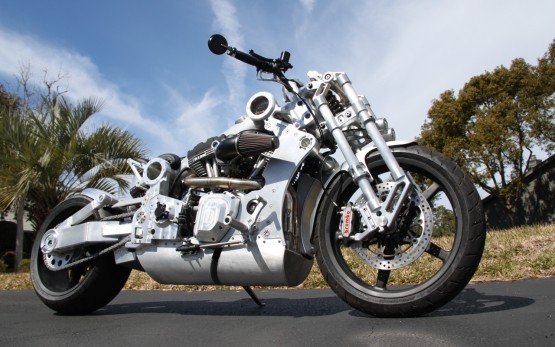 The radical, P51 Mustang-inspired Confederate motorcycle is a near ethereal experience. Here's what it's like.
Story: Roland Brown
Riding south through a warm Florida morning, the remarkable thing about Confederate's P120 Fighter is not how outrageous it feels, but how… well, normal. Like some well set-up Harley special, it rumbles along with a nicely relaxed V-twin feel, thunders forward with thrilling urgency when given a tweak of the throttle, and handles well while giving a notably smooth ride.
But there is not much that is ordinary about this bike, as is clear when I glance down to see a shock absorber reservoir in an unlikely location just in front of the speedometer; and a collection of aluminium suspension rods moving up and down as the bike floats, seemingly effortlessly, over bumps in the road. In the position of a normal fuel tank is a large-diameter aluminium pipe, etched with a series of symbols.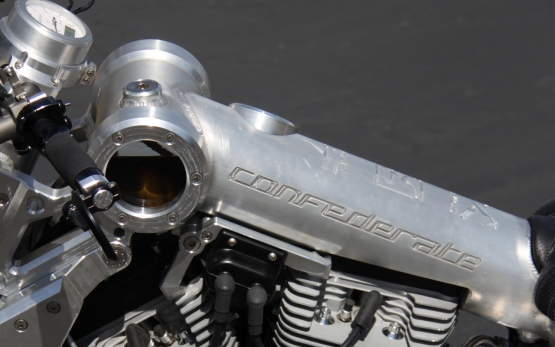 If the Fighter looks strange from its rider's seat, it's even more extraordinary to anyone else. From either side the bike resembles a polished aluminium triangle with a wheel at two corners, a partially hidden motor in its centre, and a complex array of plates, rods and struts holding the whole thing together. Whether you love or loathe its bold metallic look, the P120 Fighter Combat is impossible to miss.
Such striking and original design is only to be expected of Confederate, the firm from America's Deep South which, for almost 20 years, has been building small numbers of distinctive bikes with names such as Grey Ghost, Hellcat and Wraith. Having relocated to Birmingham, Alabama after its New Orleans factory was flattened by Hurricane Katrina, Confederate boss Matt Chambers wanted to make an impact with a new model that pushed the limits of two-wheeled design. The Fighter is the result.
Designed by Ed Jacobs, who also created the almost as striking Wraith with its two large carbon-fibre front suspension struts, the Fighter is in many ways extraordinary simple. "I wanted a straight line from handlebars to swing-arm pivot," Jacobs explains. The 127mm diameter aluminium spine frame gives it that, while the triangulated swing-arm continues the bike's line to the rear wheel spindle.
The aluminium engine plates and girder forks give a similarly machined-from-solid look further forward. Confederate's brochure describes the bike's approach as "crafted, industrial, sculptural and honest". It's hard to disagree with that – or, when you get up close, to fail to appreciate the attention to detail and level of craftsmanship that have gone into the Fighter's construction.