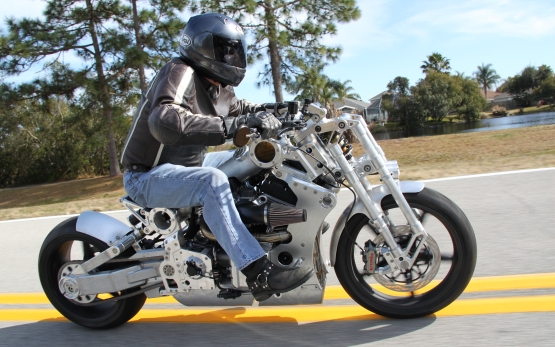 As soon as I let out the fairly light clutch it was clear that the Confederate had enough straight-line punch to justify its Fighter Combat name. The bike hurtled forward as though thumped from behind by a giant fist, feeling eerily smooth thanks to the JIMS motor's twin gear-driven balance shafts. There was none of the roughness I'd expected from the solidly mounted V-twin; just a steady surge of grunt from a powerplant that produces its maximum torque of very nearly 200 Nm at 4500 RPM, and provided bar-bending acceleration almost from idle.
The only slight flaw was an occasionally spluttery response from the 50mm Mikuni Screamin' Eagle carburettor when I cracked open the throttle suddenly. This seemed to confuse the bike slightly before its gulping cylinders recovered. It's to be hoped that further fine-tuning will help, because in other respects the motor was remarkably refined, yet totally in keeping with the Fighter's aggressive image.
There was certainly no point in revving it anywhere near the 5,800 RPM mark at which the claimed 160 PS maximum is delivered, especially as the five-speed box shifted sweetly. The Fighter sat happily and very smoothly at 125 km/h, and rumbled rapidly to an indicated 150 km/h with plenty more to come. Fortunately for my neck muscles, further investigation of the theoretical 240 km/h-plus top speed was impossible because the speedometer had stopped working not long into my ride.
I'd been prepared for serious engine performance from the Combat, albeit without the smoothness. What I hadn't remotely expected from this hewn-from-solid machine was sweet handling and light steering. But its unique chassis provided that, along with an improbably comfortable ride.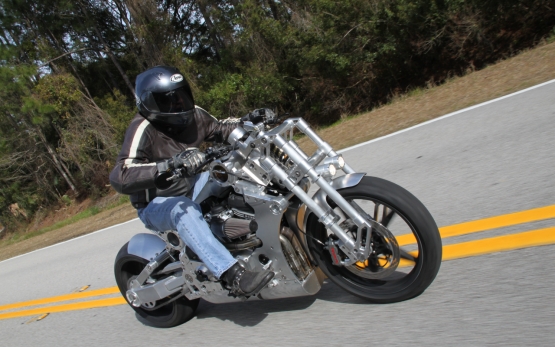 It was a strange feeling to cruise along a Florida back road, the bike composed and untroubled, and to glance down to see those front suspension girders and shock unit moving constantly, soaking up bumps that would have been more noticeable on most other bikes. Not only did that front suspension system work efficiently in a straight line, it also allowed me to brake into a bend with the bike remaining very stable.
Ride quality from the rear end was also very good, which was perhaps even more surprising because after one glance at that tiny seat I'd expected the Fighter to be horribly uncomfortable. The fairly forward-set footrests put most of my weight on my bum. But the seat was much more supportive than it looked, and the fairly softly set-up Confederate soaked up most bumps very well.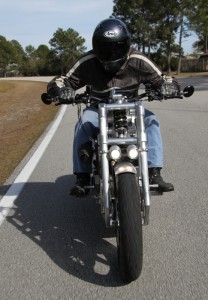 Handling, too, was much better – and more normal – than I'd expected. At 209 kg dry, the Fighter is respectably light. Its 1626-mm wheelbase is not particularly long by cruiser standards (Harley's V-Rod Muscle and Yamaha's V-Max have 1700-mm wheelbases), and its steering geometry (rake 30º, trail 102 mm) is not radically laid-back either, albeit in conjunction with a 19" front wheel. So perhaps I shouldn't have been surprised to find the Confederate responding to a fairly light touch on the bars, and generally going pretty much where it was pointed.
The bike did require a bit of force through the bars to hold its line when accelerating out of turns, probably due mainly to the enormous, 240-section Pirelli Diablo on its 18" rear wheel. Admittedly the cornering angles involved weren't that great, mainly because ground clearance ran out long before those fat Pirellis lost grip. But although the Fighter was far from a sports bike, it handled and cornered well enough to be enjoyable on a twisty road.