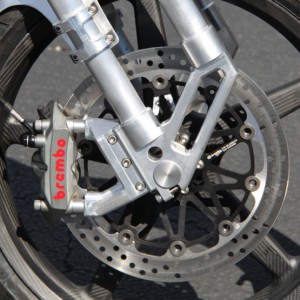 On occasions I would have been glad of a bit more stopping power than that provided by the single front and rear discs. The Confederate's front disc is made from a lightweight aluminium carbon matrix, and there's no doubting the quality of Brembo's radial four-pot caliper. But there's a good reason why most bikes packing this sort of horsepower have twin front discs.
Still, that was one of few criticisms of a bike that blew me away with its unique interpretation of the power-cruiser theme. That flickering speedo apart, the bike ran very reliably on my admittedly short ride. As with any hand-built special, a prospective owner would have to expect more niggles than with a mass-produced bike, not fewer. But the Fighter seemed very well finished, as you would expect of a bike costing – wait for it – US $75,000 (Rs 45 lakh approx).
That price is twice what you might pay for a good Harley special, and in one sense it's outrageous. But the longer you examine the Fighter, and appreciate the way in which so many components have been painstakingly designed, fabricated and hand-assembled, the more its price makes sense. The amount of time and money invested in the creation of so few machines hardly bares thinking about.
As Confederate's publicity material puts it, "For those who must have the ultimate expression of American toughness, look no further". The P120 Fighter Combat is more than tough. It's a Deep South rebel yell against conventional motorcycle design. And more importantly, it's a quick and capable bike that is as fun to ride as it is striking to look at.
—–
NEED TO KNOW: Confederate P120 Fighter Combat
Price: $75,000 (Rs 45 lakh approx, as of 2010)
Engine: 1,965cc, air-cooled, carburetted, 4-valve, V-twin
Max Power: 160 PS at 5,800 RPM
Max Torque: 198 Nm at 4,500 RPM
Clutch: Bandit, dry, multiplate
Transmission: 5-speed, belt primary, chain final
Weight: 209 kg