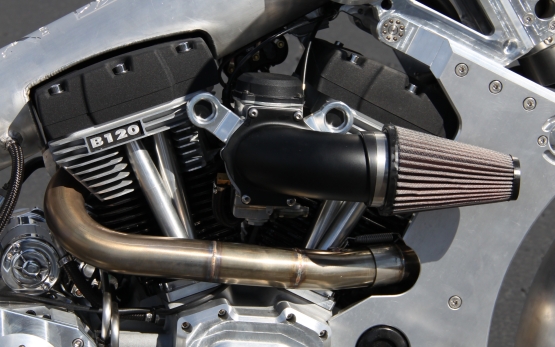 Like previous Confederate models, the Fighter gets its power from a big-inch, Harley-inspired V-twin with the familiar pushrod valvegear and 45º cylinder angle. This motor is built by Californian tuning firm JIMS, has a capacity of 1,965cc — which is 120 cubic inches, hence the P120 in its name — and churns out a claimed rear-wheel 160 PS at 5,800 RPM.
The motor is solidly mounted in the Fighter's chassis. It's mated to a stacked five-speed gearbox of Confederate's own design, with an exposed dry clutch on the left, and final drive by chain on the right. The exhaust combines stainless steel headers with a sheet aluminium collector-cum-silencer, from which twin pipes emerge on the left, intended to mimic a P51 Mustang fighter plane from World War II.
It's difficult to tell where the exhaust system meets the chassis, whose main frame spine is backed up by 19mm thick side-plates that are also CNC-machined from aircraft-grade aluminium. The spine holds fuel, combining with a secondary tank, in front of the engine, to give capacity of 15 litres. Alongside the Confederate and Combat logos is etched the number 4, showing this bike's position in the production run. Just 50 will be built, half with Arabic and half with Roman numerals.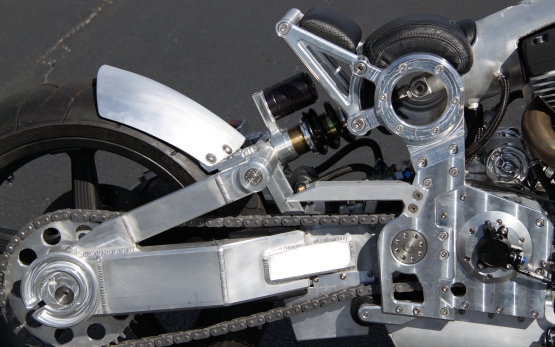 At each end of the spine are hollow cylindrical cross-pieces, set at 90º to give a bone-like shape. The top one holds oil, visible through transparent end caps; there's also a secondary oil tank lower down. The lower cylinder encloses the top mount of the diagonally mounted rear shock unit, which is worked by the cantilever aluminium swing-arm. A tiny aluminium subframe bolts to the rear frame cylinder to support the diminutive seat pads.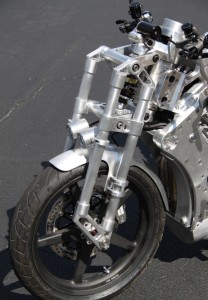 The most striking part of this unique chassis is the front suspension system, a dramatic parallelogram arrangement whose tubular aluminium struts operate a single suspension unit, situated near-vertically ahead of the steering head. This shock, like the rear one, is a multi-adjustable unit from RaceTech of California. Below it sit twin reflector-beam headlights and an aluminium front mudguard.
Almost the only chassis parts that could be aluminium and aren't are the wheels, which are five-spoke carbon-fibre units from South African specialist BST. Front brake is a single disc and four-pot Brembo radial caliper, adding a rare element of familiarity. The slightly raised black one-piece handlebar is wide, and made to seem more so by the pair of small bar-end mirrors.
So unusual is the Fighter's look that it was almost disappointing to climb aboard and find it seeming almost normal, with a low, 686mm high seat and a gentle lean forward to the handlebar, to which was bolted a white-faced speedo that incorporates a digital tacho. But firing up the engine was no ordinary matter, requiring both cylinders to have their 12:1 compression ratios reduced, by a press of a button on the head, before the giant V-twin came to life with a deep but fairly restrained bark.