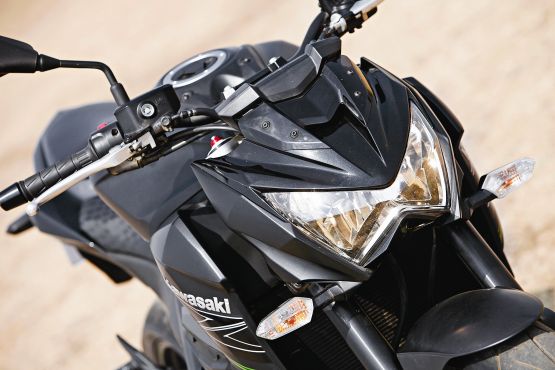 The Kawasaki Z800 had us in its thrall the moment we swung a leg over it.
Days like this one are the reason I love my job. While most of the people spend their working day in an office, looking at a monitor screen, I am riding the smashing new Kawasaki Z800 around the hills near Pune on a lovely winter morning.
Kawasaki's Z series of naked bikes started with the iconic Z1000 of 1972 and has evolved into an evil-looking range of motorcycles over the past 40 years. The Z800 was launched last year to replace the outgoing Z750. It is an entry-level Z and has made its way into India as the latest addition to the ongoing 'green revolution' unleashed by Kawasaki in recent months.
The Z800 is a middleweight street bike with sharp lines and an aggressive look. Its single-piece headlamp gives the bike a face with a frown upon it while the plastic tank shrouds add muscle to its shoulders. The bike looks front-heavy because most of its mass surrounds the engine, except the beefy muffler, and looking past the styling panels, it can be noticed that the Z800 is quite small in size for an 800-cc motorcycle.
The bodywork of this bike has a matte/glossy combination finish with very few graphics. The alloys have a rather simple design, but there are a few rather neat touches such as the three-section LCD information display, curvy exhaust header pipes, LED tail-lamp and a patterned seat for the rider.
The bike inspired confidence the moment I got into the saddle ─ now it appeared even smaller from the rider's point of view. The seating posture is almost upright and I could wrap my thighs around the tank nicely to get that 'tucked in' feel. The handlebar, seat and foot-pegs complement each other to lend a natural riding position that is suitable in traffic as well as in bends. Readouts on the digital information panel are easy on the eye and the mirrors deserve a special mention as they offer a wide-range view and do not look disproportionate in spite of their large size.