Ride quality is quite nice and road irregularities are filtered out pretty well. To ensure that you get the best balance between ride and handling that you desire, Benelli have kitted out the TNT 300 with a small rotary adjuster just behind the monoshock. The adjuster is easy to reach, even when you're firmly settled in the comfortable saddle, and allows you to select from 28 different pre-load settings. Neat, that.
Power delivery from the refined 300-cc parallel twin nestled inside the red painted steel trellis that makes up the TNT 300's chassis feels good right from the word go and gets progressively better as the revs start to pile on. There's good grunt available throughout the rev range with the bike pulling cleanly from about 40 km/h all the way up to 100 km/h without breaking into a sweat. That, too, in the sixth gear. Transmission is via a six-speed gearbox and chain final drive. Shifts are smooth and return a good feel too.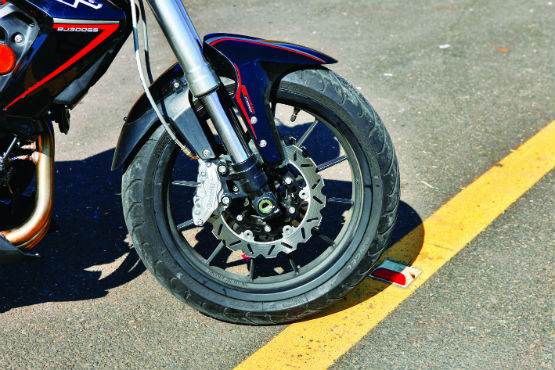 Despite being a compact 300-cc motorcycle, the Benelli gets a pair of petal discs up front and a petal disc at the rear. The brakes have sufficient bite and feel to bring the TNT 300 to a dead halt from any speed. While the brakes work well, what would have been really appreciated would be the presence of ABS. Unfortunately, that particular technology is not part of the Benelli package. Hope the manufacturers review that decision somewhere down the line and change tack in future.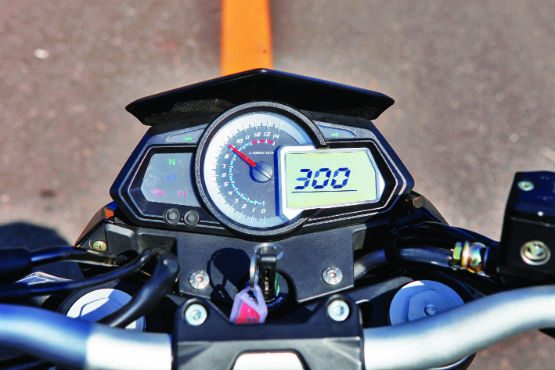 Overall, however, the Benelli TNT 300 is a well-packaged machine. It's compact yet roomy, is comfortable to ride but also has good dynamic abilities and has a refined and powerful engine, which didn't seem particularly thirsty either. The only, and perhaps the most crucial, aspect of making or breaking the package will be DSK Benelli's pricing strategy. As a product, the Benelli TNT 300 will look to hit squarely in the Kawasaki Z250's underbelly and it has a fair chance of giving a good thwack to the Japanese motorcycle. Provided DSK Benelli price the product in the Rs 2.5 lakh to Rs 3 lakh range.