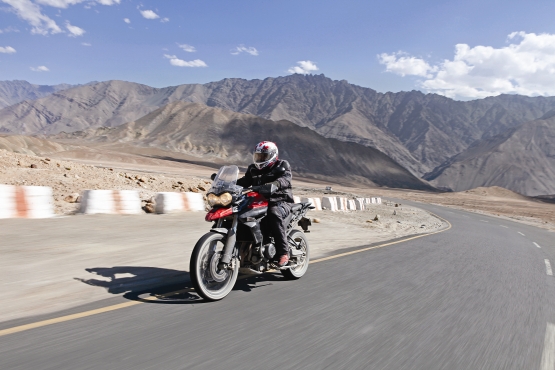 Fotu La, situated at 13,478 ft, is the highest pass there. However, there were just a few old prayer flags and a little "You are here" board. Another bunch of riders were taking a rest stop there and waved us on. It always feels nice to have someone do that. A quick wave without a stop and onward with the Tiger. Yes, the road to Leh was a mesmerising mix of winding mountain roads and towering masses of sand, and thus it was beginning to get quite warm. As we descended, we came across an access road to the river; made up entirely of stones, of course. A quick detour made for a serene photo op. There were stones of almost every shape, size and colour and not a single stone was like any other.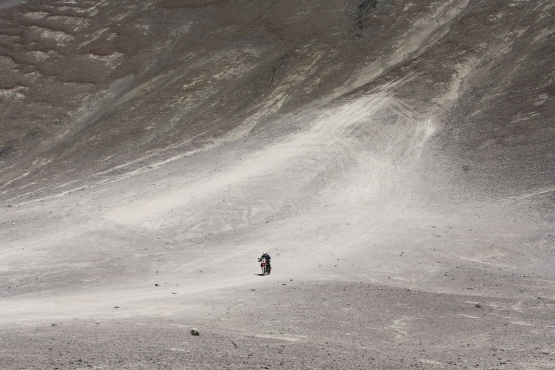 Making our way through the valley, the traffic was sparse and the roads were inviting more speed runs. However, the Army convoy coming up ahead had me rein in the Tiger. That was when a massive uphill slope came into view – 'Magnetic Hill', it stated. There was a part of the road which was marked out with paint, asking you to park your vehicle and feel the wonder of gravity. I went on to have some fun on the slopes instead. The loose mud was a fun surface to simply let loose on. Fun done, it was time to move on. Leh was just about 30 kilometres away now.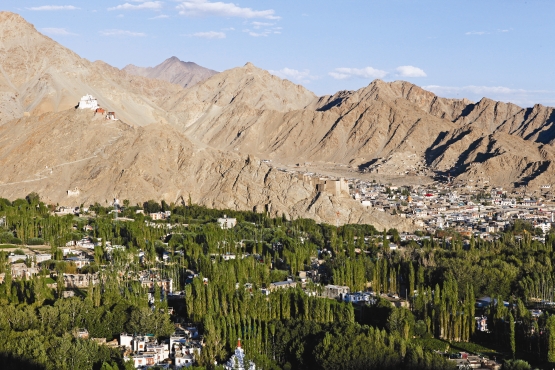 As we rolled into Leh, it was well past noon and the sun was searing. I can't believe I actually thought it would be cold in the summer. The first stop, Leh Palace. Built in the 17th century by King Sengge Namgyal, the palace is situated on Namgyal Hill and overlooks the city of Leh. It is reminiscent of the Potala Palace in Tibet. We decided to also visit the Shanti Stupa before lunch. Shanti Stupa, or Buddhist shrine of peace, is atop a hill in Chanspa. It is a relatively recent addition, having been constructed by the Japanese Buddhist Nakamura in 1991. Step inside, and it is very peaceful indeed. Yoga mats also form a part of the interior, and several foreign nationals often practise yoga here.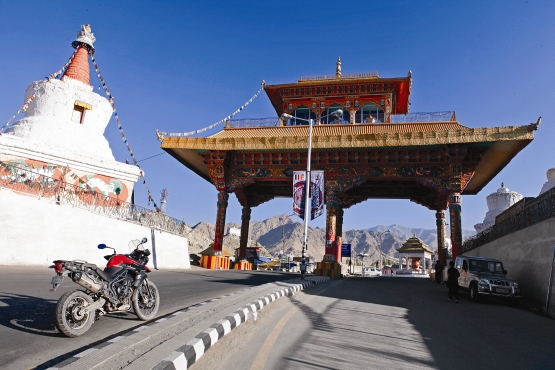 After a quick look around, we headed for lunch at a quaint little restaurant almost teetering on the slopes of the hill. We headed around town to see what Leh was like. To sum up, it was beautiful! There were huge prayer wheels at regular intervals. I had to stop and say a little prayer myself while I spun it around; something I've never done before. We even happened to spot the Rocks and Minerals Museum, but, unfortunately, it was closed at that time. Apart from some traffic snarls on the main street leading up to our hotel, the beautiful Namgyal Palace, there was hardly any traffic around. By the time we finished exploring, it was already getting dark. Rest was needed, for the next day was when the Tiger would go to the top of the world!