As I came to a stop and got off the bike, I began to take in where we were. Cracked mud-cakes with salt topping were what I would like to describe it as. Then began the speed runs. There was not a soul in sight, not a sign of movement, and, most importantly, no speed limits! I imagined Bonneville (the place, not the Tiger's sister) and the speed records that so many have attempted on this treacherous surface. Increase tyre pressure. Reduce tyre pressure. Close all gaps. Allow good air-flow. Everything was tried there, but, here, we weren't about to set any speed records. We were here for fun, to explore and push our own limits. And that we would gladly do. It was hot, and the anticipation had got me breathless. I couldn't contain myself standing still and hopped back on the bike and went far till Sanjay, my photographer, was but a dot in my visor. Like a heat-seeking missile, I opened the throttle and let the Tiger loose.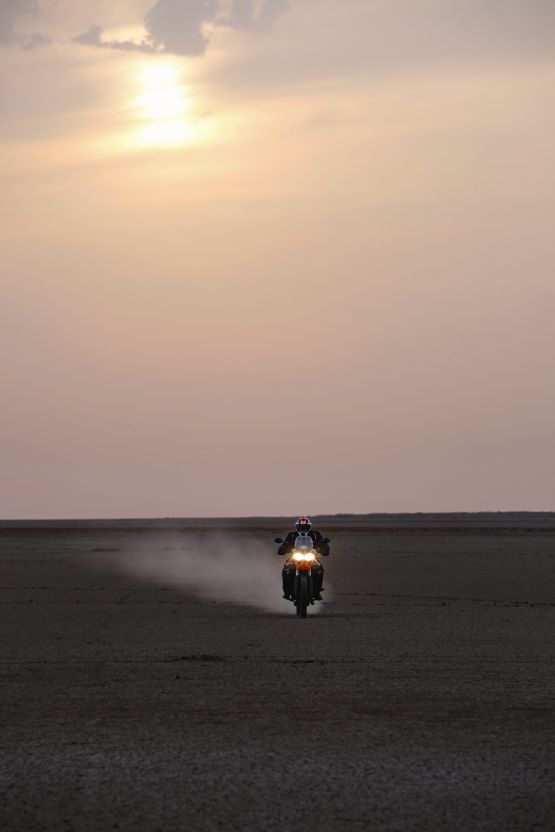 The speedo rose to 50, then 80 and I felt what sort of grip was on offer. There was very little really. One shift in weight would mean I was off. Holding a straight line was everything! As the needle climbed to 100 km/h, I was gunning for glory. Trails of dust erupted behind me and the howl from the engine was the sound of freedom. It took over and all I wanted to do was go back and forth, enjoying the endless expanse. The sun was setting in the background and Sanjay was busy filling up his memory card. As dusk settled in, we set up our portable tent. Late-evening shots would be another experience. Pitch darkness would soon step in, and millions of stars would light up the night sky.
It was mesmerising. The Rann. It puts things in perspective. How minuscule we are. How large such a tiny dot on a map can be. How there is much beauty in everything for those who seek it. How deep you can go into nowhere and yet know exactly where you are. Yes, we had to leave early, and, no, I didn't care.