A simple gate with a signboard and a wall signal your arrival. The desert-like heat had got to everyone and we were irritable and just looking for a break. The moment we entered the compound, though, it all changed! Rann Riders was like an oasis in a desert, quite literally, I might add. The off-road ready SUVs and buses, the small office building with the rustic dining area and the hut-like cottages were a welcome sight after the miles we'd spent in the scorching sun. Getting the opportunity to stay there was all thanks to members of our team visiting the place a few times in the past few years. Although it was closed for the off season, the owner had us put up in two air-conditioned cottages.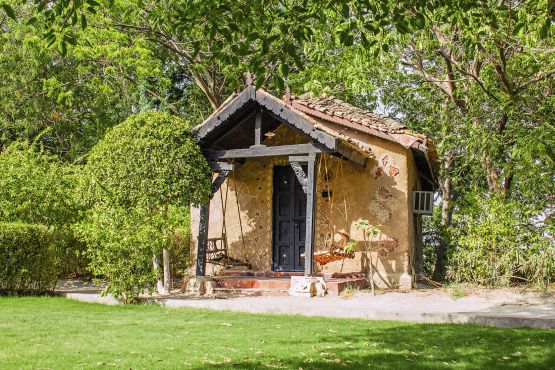 While wondering what we could do for lunch, a soft knock on the door followed by a quick word telling us that lunch was ready got us upbeat even more. Finally, we got to experience the dining area. It wouldn't be fair to call it a restaurant; the ambience was far more exclusive and serene than many a great restaurant I've had the pleasure of visiting. There was even a peacock, the owner's pet, frolicking around and basically just relaxing on the sofas. A pug, named Princy, would also become a close companion over the course of the day. We love our pets, you see. After a filling lunch which comprised a surprisingly extensive menu, we went off for a quick power nap. The stone pathways, wood bridges and a wide variety of flora enthralled me as I made my way back to the hut. This was indeed an oasis. If it wasn't for the scorching heat, I would have surely explored every inch of the place. However, Little Rann of Kutch was calling, and we would answer that evening.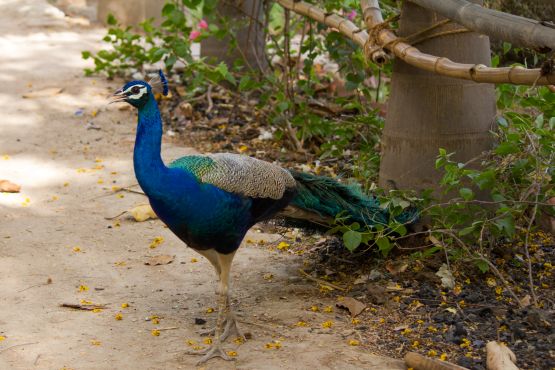 Rann Riders had arranged for a guide to take us to the expansive salt desert, which was about 40 kilometres away. We set off at 5.00 pm and made our way past the little stretch of highway and a village with the road getting narrower with each turn we took. Soon the background began to turn into more sand and less vegetation. I was gingerly making my way over the sand banks which, once regular, had now turned into the only terrain. I was so focused on not toppling with the Tiger that I didn't realise the elevation changes and the fact that we were getting closer to the endlessly sprawling desert of a different kind. The guide was directing us, going by mounds of sand and bushes. I couldn't fathom how well he knew the place. Soon enough, the salt desert was all the eye could see: it was land, background and horizon.