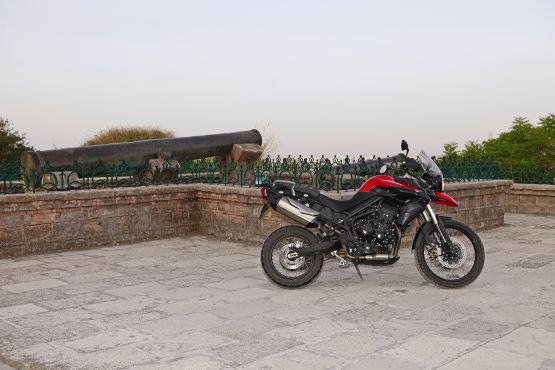 Junagadh seemed like a rather pleasant town at sunrise, and there were hardly any people about as we made our way through some narrow lanes to get to the fort. Historically, Uperkot has been around since 319 BC, constructed over two millennia ago. The entry gate is majestic and the tall fortifications house several cannons at varying heights. Looking up at the fort with the sun rising in the background made me remember my history lessons and my mind vividly displayed images of what the battles must have been like back then.
There is a cobbled pathway which leads into the fort, revealing more passageways. Thankfully, the Tiger was allowed inside for a small fee. As I made my way in, the road got higher and the view even more spectacular. Inside the fort was a road, a normal one, with dirt and plants on the side. It led up an incline to a wall overlooking the ramparts, complete with two more huge cannons on each side, imported from Egypt. Just beyond them is the Jama Masjid. Exploring the many rooms it holds within its many (140, to be precise) pillars can take a while. It was easy to lose track of time as I continued exploring.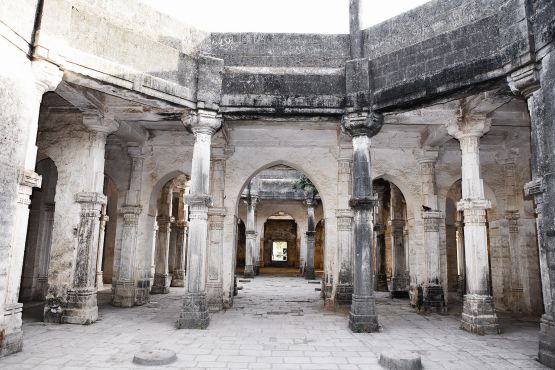 We exited the fort and proceeded through the city, which was now quite packed with people and vehicles. The road out of Junagadh was actually a narrow street that went through the city and which would eventually lead us out on to the long, straight highway 8D through Jetpur and Gondal. The stretch from Gondal to Rajkot was a dream: sparse traffic, smooth and straight roads, and hardly any animal intervention. That meant only one thing: the Tiger could stretch its legs and make headway for Dasada. The triple was up for it and was very vocal with its happiness. The acceleration is so brisk, it's on open stretches like these that you can really feel the horses in the Tiger come alive. Hitting 80 km/h takes just a couple of seconds, but it's the way the engine pulls so cleanly in any gear which really speaks loads about its rideability. It's just as comfortable pottering about at 50 km/h in sixth gear, and that has a big part to play in making it a great bike for touring, on and off road.
It was almost afternoon when we arrived at the outskirts of Dasada. Our destination was a unique resort called Rann Riders. I'd heard a lot about the place and was looking forward to getting there. Besides, the temperature was an unholy 47º C and the sun was glaring down with an intensity that no one in their right mind would be comfortable. I am infamous for having beads of perspiration take over my forehead while many are shivering in an air-conditioned room, so this was far from ideal for me. I point out to my photographer how even the locals have taken shelter under whatever few trees were alongside the road. Not an animal was stirring and yet here we were, the Tiger running along with its temperature gauge a tad over half the distance between 'C' and 'H'.