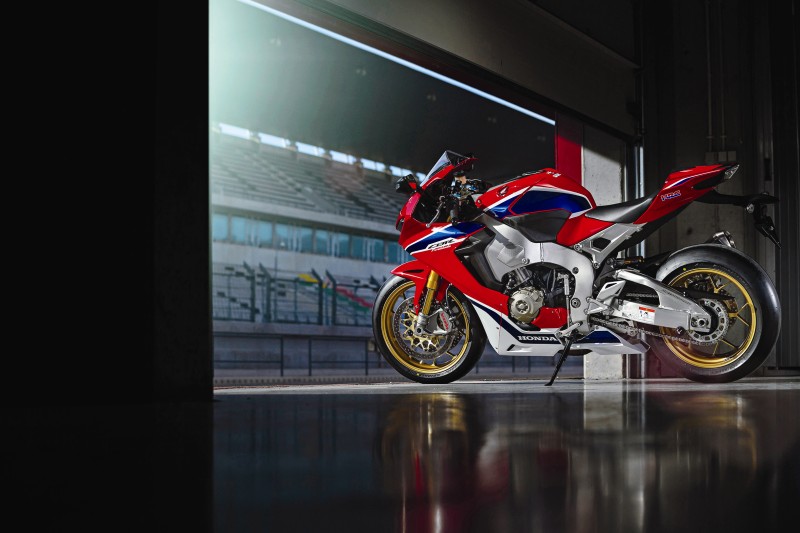 The bare numbers put the standard RR back among the contenders: peak power up by 11 PS to 192 PS at 13,000 rpm, wet weight reduced by 15 kg to 196 kg, and power-to-weight ratio improved by a significant 14 per cent (65 per cent over the original CBR 900RR), giving by far the highest ratio yet from a Fireblade. Equally importantly, the new electronics package, incorporating Bosch's much-used Inertial Measurement Unit, allows a nine-way adjustable traction control, called Honda Selectable Torque Control, or HSTC.
The system, linked to Honda's first ride-by-wire throttle arrangement on a straight four, also brings wheelie control, lift control (under braking), three-way adjustable engine braking control, and three pre-set rider modes. These are designated Track, Winding Road and Street, and come with different combinations of engine power, throttle response, traction control, and engine braking. There are also two User modes that can be programmed by the rider.
According to Honda, 90 per cent of the standard and SP models' components are new, which rings true in the Portimão pit-lane as I climb aboard a Fireblade that has a familiar look but seems notably smaller and sharper. For the first two sessions we're on the standard RR model, using the Bridgestone S21 sporty street tyres with which it will be delivered.
And as I aim fairly cautiously through the first few turns to warm the rubber and relearn the track, it's clear that this bike is more light and manoeuvrable than its predecessor, despite nominally unchanged steering geometry. Even on standard suspension settings the 'Blade feels deliciously taut and agile, carving through the smooth Portimão turns with an ease and precision that makes it feel almost like a middleweight.
Its compact size won't please every rider although I find myself less bothered by this than a couple of other tall riders. As with its predecessor and many other sports bikes, the foot-rests felt quite high, but not excessively so, perhaps because the seat is slightly higher than the old model's. Some riders also felt the slimmer fairing compromised wind protection at speed, though I was fine provided I kept my head behind the bubble.
The Honda certainly made some serious speed on the straighter sections, accelerating like a crazy thing as the digital tachometer jabbed towards the 13,000-rpm limit through the gears, and the titanium silencer shrieked a crisp, high-pitched and thrillingly loud accompaniment. This model's extra heft is essentially at the top end, and it seemed both quick-revving and very smooth. But the 'Blade also charged out of slower turns, displaying sufficient mid-range grunt to suggest it will make a sweet, rider-friendly road bike.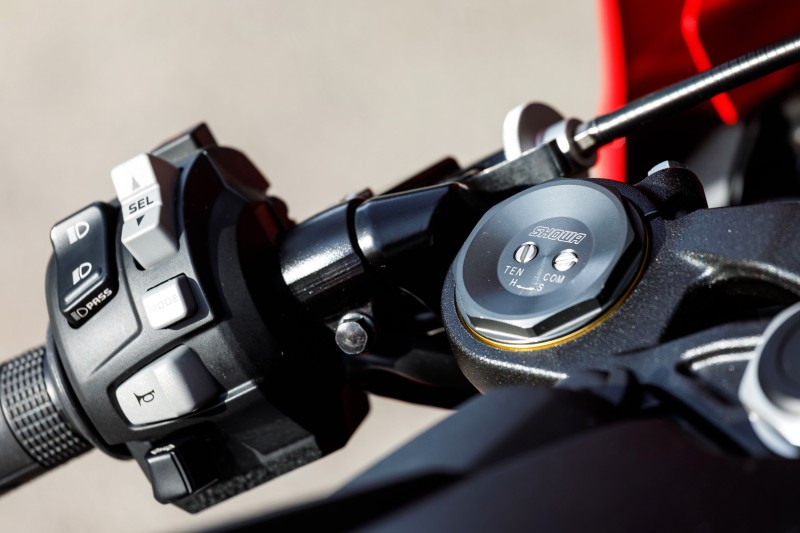 Its electronic additions will also help, not least the easily used choice of engine modes that alters power delivery at the press of the button on the left bar, but was not required at Portimão. I kept the bike in Track mode, and also stuck to that mode's default traction control setting of two (out of nine), which gave a useful safety net without being intrusive, and was particularly welcome towards the end of my second session (the bike's third), when the rear Bridgestone was slightly past its best.
It's impossible to say with any confidence how the Honda will fare in straight-line shootout against its rivals, some of which have a few horsepower over it, at least on paper. What's for sure is that it felt eye-openingly quick, and wheelied over that heart-stoppingly fast crest with as much enthusiasm as Ducati's 1299 Panigale had on its launch two years ago. A couple of times the anti-wheelie software cut in abruptly, and even made the bike hesitate slightly after putting down its front wheel.
The anti-wheelie can be adjusted, but only by changing the traction control setting because the two are linked, which seems strange. I was also slightly disappointed that the 'Blade doesn't have an easily used button with which to fine-tune traction control on the move, but its colourful TFT dashboard did seem very clean and intuitive. It features three display options — Street, Circuit and Mechanic — the last-named to provide servicing information.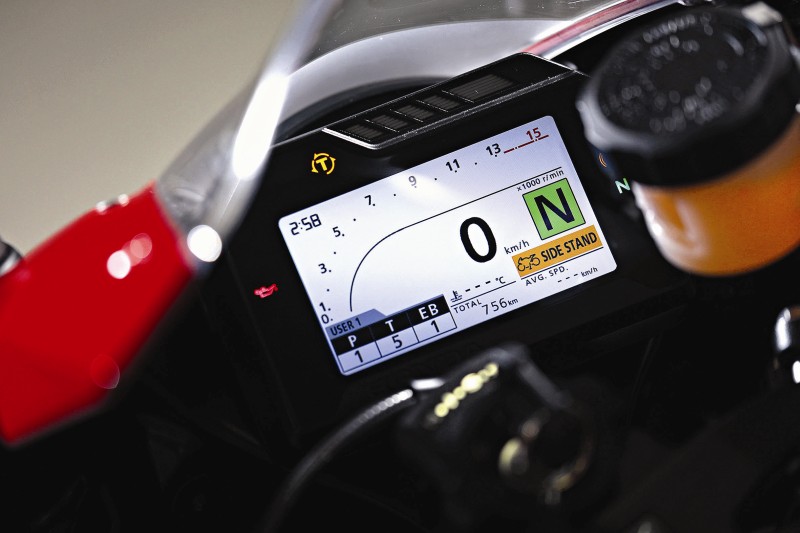 The 'Blade's acceleration was also enhanced by its quick-shifter, which incorporates an auto-blipper for down-shifts, and is standard fitment on the SP model but an accessory with the RR. It shifted very cleanly everywhere except, a few times, when declining to change down into one slow left-hander, probably due to my oversized boot not fully disengaging the lever. Honda's system allows the rider to choose between three levels of sensitivity, a neat touch.