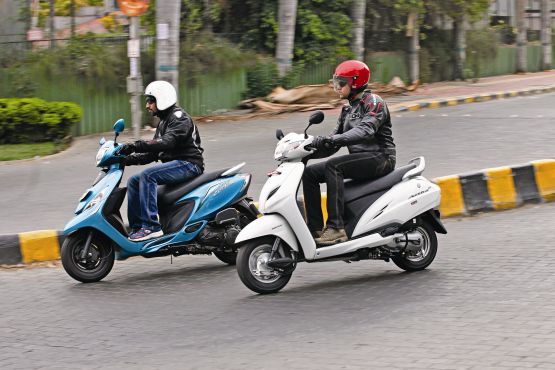 Playing to Your Strengths: Character Profile
Honda Activa 3G: The Activa 3G is understated, reliable, and frugal. It is a stable, roomy ride that provides a decent amount of grunt and brakes quickly too, making it the perfect ride for a middle-aged office-goer who wants a stately scooter to match his or her position in life, and enough room to hold a briefcase in the front, and a lunch-box in the boot.
TVS Scooty Zest: The college-goer's best friend, the Scooty Zest is perfect for the 16-year-old who's just got his or her driving licence. It looks funky, brazen and in your face. It is also the hardest accelerator, and solid under braking, perfect for the young speed junkie. The front storage can fit a bottle of water or your favourite fizzy drink, and even a couple of notebooks for when you grace lecture-halls. The under-seat storage is perfect for all the gadgets and gizmos young college folk seem to carry too, a good fit for the youthful biking tyro.
Mahindra Gusto: The Gusto may not be the fastest of the block, but it is feature-rich. The seat height adjustability and massive amount of leg-room coupled with the remote flip key and the backward opening seat mean the Gusto is all about making life that much easier. As such, it is perfect for the home-maker. Spacious enough to fit a school-bag in the front and a bag of veggies in the boot, a shopping list in the storage compartment and can easily be found at the end of those jaunts to the shopping mall thanks to the remote key.
Suzuki Let's: For young 20-somethings starting their first job, the Let's is the ideal scooter of choice. Powerful, fun, attractive-looking but not flashy, this scooter will fit right in at a quiet café or a shiny IT complex. And because it's the least expensive bike on our list, it won't hurt the pocket of a young professional just starting out in his or her first job.