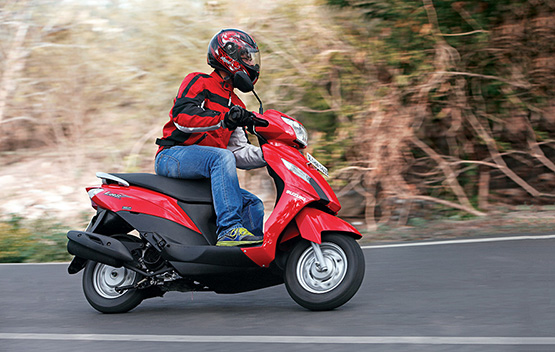 On paper, these figures promise a lot and in reality the Let's actually manages to put a genuine smile on your face. The moment you thumb the starter and wring that throttle, it reacts like Speedy Gonzales. But unlike Speedy, the Let's surges ahead in a very linear fashion as the power and torque are spread out quite evenly throughout the rev range. It feels quite zippy and eager to lunge forward, stretching its little legs every time you twist your right wrist. This motor is as smooth as the one that powers its elder siblings and you can hardly hear it. I really didn't notice any vibrations most of the time.
What I would like to highlight is the strong bottom-end power of this motor that makes the Let's quite easy to ride in any kind of traffic. The mid-range is decent, too, but it's the top-end performance that will catch the fancy of the young. Our performance test revealed that the Let's can easily achieve a top whack of 92 km/h. Great, isn't it? You never feel like riding a lightweight, compact scooter with a puny engine because the acceleration, power delivery and performance instantly remind you of the Let's elder siblings, the Access and Swish.
Another thing that reminded me of the bigger scoots from Suzuki was the handling. According to me, Suzuki are very consistent with their products, especially when it comes to comfort, ride quality and handling. Every product from Suzuki, including motorcycles, has surprised us with the aforementioned traits and the Let's proudly boasts of every one of them. The moment you sit on the comfortable seat, you realise how compact this little wonder actually is. It feels like a toy scooter, but with a real engine in it. The 98 kilo kerb weight makes it really easy to handle in any situation.