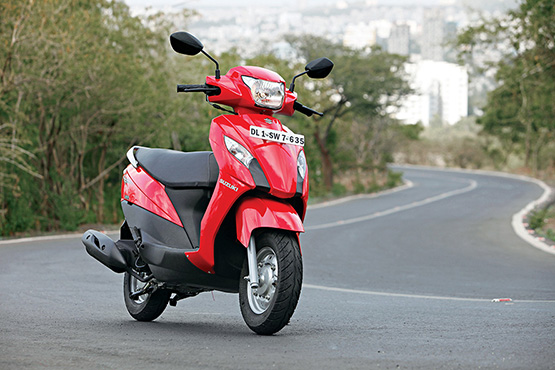 Suzuki's latest scooter, the Let's, is a compact little runner for the youngsters, but it entices the young at heart too.

Story: Ravi Chandnani
Photography: Sanjay Raikar
The humble bicycle was once the favourite ride of the Indian middle class. The youngster in the family, who had just graduated from junior college, was given a bicycle for his daily commute to the college. However, times and trends have changed and the bicycle has lost its place of pride among the youngsters. For today's youth the door to adulthood opens up at least with a scooter, if not a motorcycle. And it can't be an average-looking scooter too; after all it's about showing off your wheels on your first day to college. The market is full of scooters that are capable of enticing such youngsters. Adding to that tally is Suzuki's latest entrant, the Let's. It's a fun little machine with a 112.8-cc heart that beats almost as fast as its 125-cc sibling, the Swish. Although its name sounds like an incomplete action, we can assure you that it is pretty much a complete scooter. We recently took it out for a spin in town to see how well it can suit the demanding Indian youth.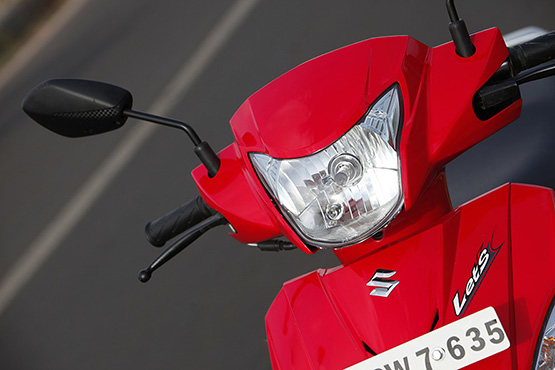 The first thing an 18-year-old will look for in a scooter is style. To him/ her it doesn't matter what powers the thing. All they care about is the coolness factor, which dominates their lives at that age. And they should thank the designers at Suzuki, who have done a fabulous job of keeping this scooter as stylish and trendy as a modern youngster. The eye-pleasing design of the Let's has some really cool and awesome looking elements such as the stylish front end with its sharp lines. The big headlamp also adds a little masculinity to the front. From the side it competes very closely with Honda's Dio, which is the unofficial favourite of the collegiate crowd. Freshness is really high on the Let's. It doesn't look like just another scooter on the road. It has a very young vibe about it and you can see that in the crisp and sharp lines present all around.
My favourite detail on the Let's is the rear end. It's sleek, tidy and minimal; this simply boosts its youthful appeal. Another thing I appreciate is the use of minimal body graphics or stickers. Suzuki have cut out the unnecessary by pasting just enough to let you know what it's called and who makes it. Suzuki must have hired a very young consultant to help them with the design as it ticks all the right boxes for a youngster.