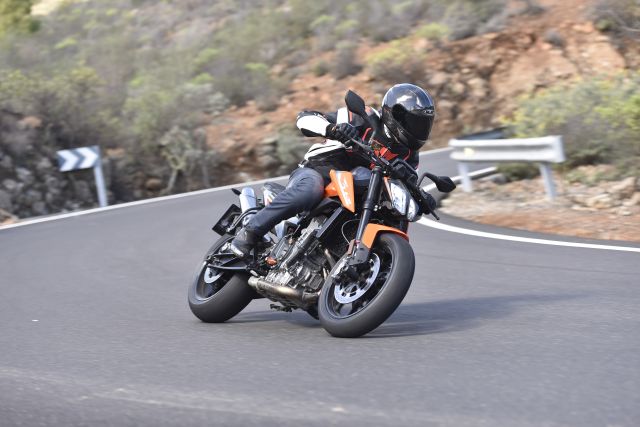 For the morning's road ride I stuck to Street and the slightly sharper Sport (there's also Rain, which reduces power), both of which gave excellent throttle response. Just over 100 PS and a flat torque curve was always likely to be fun from a bike weighing just 174 kg wet, especially when aided by a superbly light gearbox and a shifter that made going both ways through the box a delight. (A couple of riders reported a few false neutrals, but the several bikes I rode changed flawlessly.)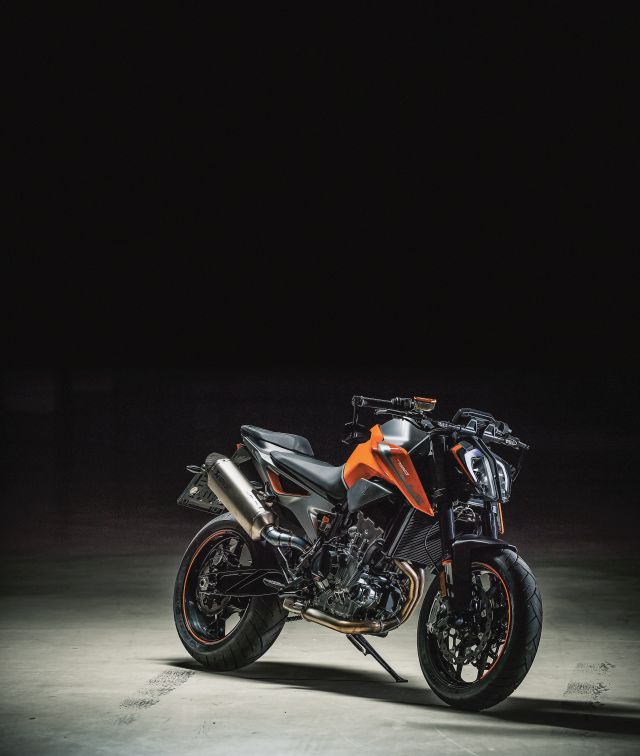 It was no surprise to find the 790 feeling quick and instantly entertaining on the roads of Gran Canaria. Sure enough, it ripped to well over 150 km/h with minimal encouragement, on the way to a top speed of about 225 km/h. It pulled sweetly from 4,000 rpm or below, and was sufficiently smooth up near the 9,500-rpm red-line that vibration was never an issue. What came as a pleasant surprise was its slightly lumpy character and the off-beat note from the high-level silencer, both of which added to the entertainment.
My only real criticism of the powertrain is that the 790 didn't particularly like slow-speed running at a constant throttle opening, tending to hunt slightly. This wasn't remotely annoying when briefly riding through a few sleepy Spanish villages, but might be more so on a city commute. Back on the positives, the action of the power-assist clutch is very light, and there's always the option of Rain mode for a generally softer delivery.
If my pre-ride doubts about the engine were mostly whether it would feel sufficiently exciting, my concern about the chassis was whether the basic suspension specification would allow the handling to be as sharp as it should be from such a short, light bike, especially given the generous travel of 140 mm front and 150 mm rear. The 790 put those to rest when slicing nonchalantly through the first set of bends, and spent the rest of the day confirming that KTM's development team got their suspension calibration spot on.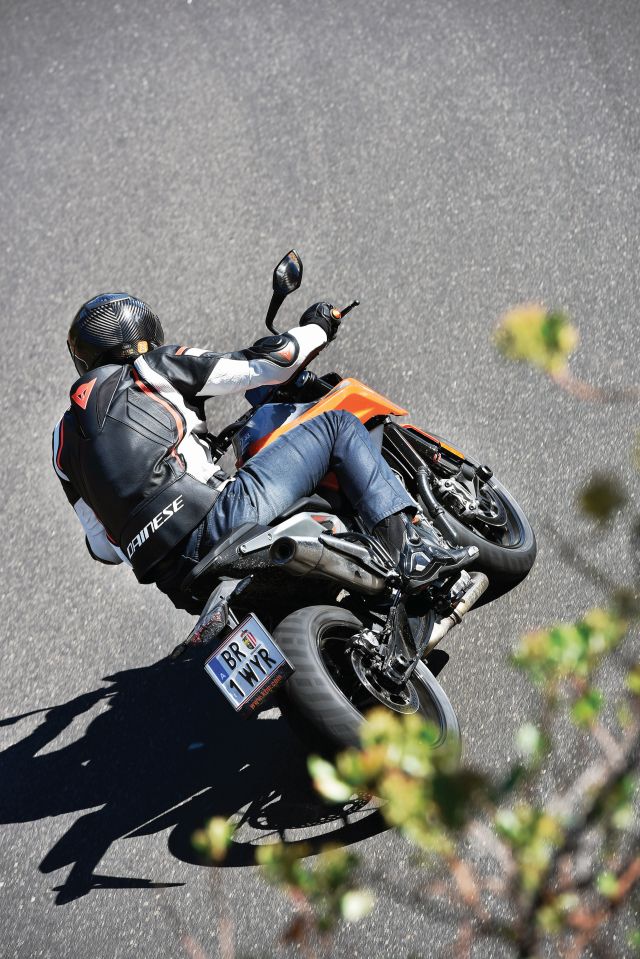 There was one section of about 10 kilometres where the road surface suddenly deteriorated from gloriously smooth to rough, bumpy and occasionally loose. The lead rider barely slowed the pace, and the bike coped really well, passing on some jarring through the bars and seat but holding its line and refusing to lose its composure. A softly sprung adventure bike would have given a plusher ride, but the Duke's balance between sharp steering, stability and comfort felt just about right.
On this stretch, especially, it was good to have the KTM's high-class electronics in the background, meaning that braking or accelerating too hard on a gravelly patch would have resulted in the ABS or traction control taking over. The Maxxis Supermaxx ST tyres gripped very well for sports-touring rubber, too. As a four-finger braker, I also thought the front stopper's blend of 300-mm discs and four-piston radial calipers from J Juan gave excellent power and feel, although one rider (who brakes with only two fingers) reckoned the lever required too firm a squeeze.
The 790's suspension, tyres and brakes all gave a very decent account of themselves on track, when we hit the Maspalomas circuit for a brief thrash after lunch. Sure, the ABS activated in a few places every lap as the tyre ran out of grip, and both ends felt slightly vague as the suspension and tyres approached their limits. (Some adjustability now would have been nice.) But the Duke could be ridden impressively hard without getting out of shape or threatening to do anything nasty, which for a relatively inexpensive middleweight was very impressive.
At the other extreme, it should also prove quite practical. Fuel consumption averaged only just over five litres/100 km despite plenty of throttle abuse, so the 14-litre tank would normally be good for about 250 km. The seat was beginning to feel slightly firm by the end of the day, but comfort seemed reasonable. For short riders there's a 20-mm lower seat and a chassis kit that drops it by another 25 mm, to 780 mm. (Other extras include carbon-fibre front mudguard, adjustable rear-sets, seat hump and Akrapovic silencer.)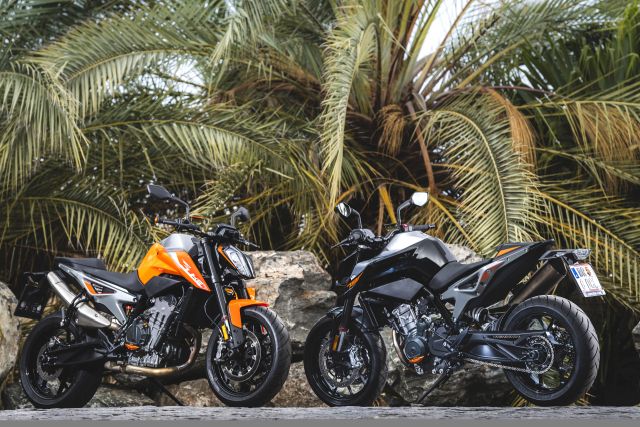 The handlebar can also be adjusted by reversing the mounts. Despite being tall I found the bike fairly roomy by middleweight standards. It's also pretty well specified, with LED lights, useful mirrors, adjustable levers and an illuminated menu switch; though, curiously, not self-cancelling indicators. The fact that I'm resorting to criticising a naked middleweight for that emphasises how thoughtfully detailed it is.
Especially because it's so competitively priced — on a financial par with Triumph's Street Triples, BMW's F 800 R and Kawasaki's Z900, if not with Yamaha's MT-07. All are capable bikes but they face a formidable rival in the 790 Duke, which very much has the performance, style, character, ease of use and quality to be a contender — and to get KTM's attack on the middleweight division off to a flying start.