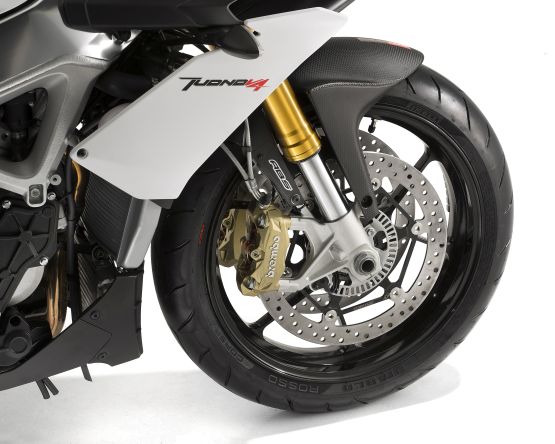 Aprilia's APRC traction control system is excellent, too, giving a very useful safety net and also making it relatively easy to approach the limit of traction under hard acceleration. Charging out of the tight left-hander on to the long straight, the rear Pirelli seemed to squirm as the dashboard's TC light flashed, but it was generally the system sensing the imminent loss of grip and adjusting the fuel delivery. The ability to adjust TC level so easily, with a press of left thumb or finger, is a real advantage and something that other manufacturers could learn from.
Handling was exemplary once the standard Pirellis were fitted, the Tuono showing no ill-effects from its softer suspension. That's not surprising, as the difference is only in damping settings, which are easily changed in any case. The track didn't quite dry out completely by the end of the day, but there was a dry line through most bends, and the Rosso Corsas did a great job of finding grip on the lingering damp patches.
I was surprised that the brakes weren't quite up to standard. There was nothing wrong with the power or feel of the new Brembo callipers, which chomped the 320-mm discs with predictable Monobloc ferocity. But the new ABS system struggled when transitioning from damp to dry tarmac, occasionally letting off the anchors momentarily and allowing the bike to run slightly deep into the turn, on both of the main ABS settings.
The Aprilia's Brembo system didn't quite seem to match the power and predictability of the similar set-up I'd tried on Ducati's 899 Panigale the previous day, in wetter conditions. On the damp track I was still glad to have the ABS, but if I'd been chasing lap times I'd probably have been forced to turn it off and take my chances.