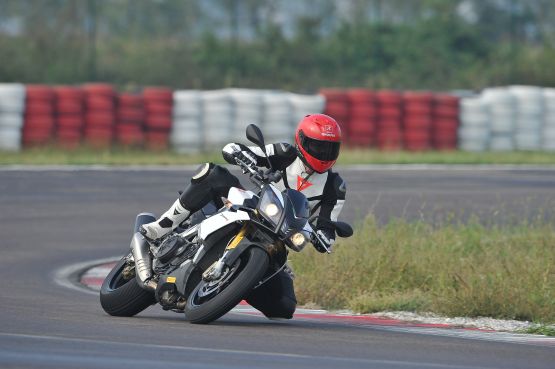 Like the RSV4, from which it's derived, the Tuono V4R ABS is a seriously rapid superbike, with a top speed of over 260 km/h, and in naked bike fashion it's often all the more fun for emphasising rather than disguising that speed. The Tuono V4R was always brilliant — one of the top bikes of the last few years for me — but touched by madness too. By essentially removing the fairing from an RSV4 super-sports bike and bolting on a wide one-piece handlebar in place of its clip-ons, Aprilia created a naked V4 that was fast, loud, agile and fantastic fun on track or the right road.
However, although there was actually a lot more to the Tuono V4R than appearances suggested — including a slightly de-tuned 999-cc engine and a re-jigged frame — there's no doubt that Aprilia's naked weapon was too hardcore for many. It was an absolute blast in the right situation — but harsh, loud, thirsty and ill-suited to the real world that most riders inhabit most of the time.
Now Aprilia have tweaked the naked V4 to make it, in their words, "more incisive, sophisticated and safe" for 2014. Softened suspension, a larger tank, re-designed seat and the addition of an ABS brake system are all designed to make the Tuono more rider-friendly and easy to live with. In the words of Marco Zuliani, Aprilia's Product Manager, "Naked bikes spend most of their time on the road, so we have listened to customers and improved the Tuono's attitude for road use."
And, fortunately, they haven't forgotten that its attitude is what made the V4R special. With the Tuono's status as the ultimate naked weapon seemingly about to be challenged by rival big-bore naked models of unprecedented viciousness — including KTM's Super Duke R, BMW's long-rumoured S1000RR derivative and Kawasaki's revamped Z1000 — the Italian company couldn't resist giving their contestant a bit more firepower too.