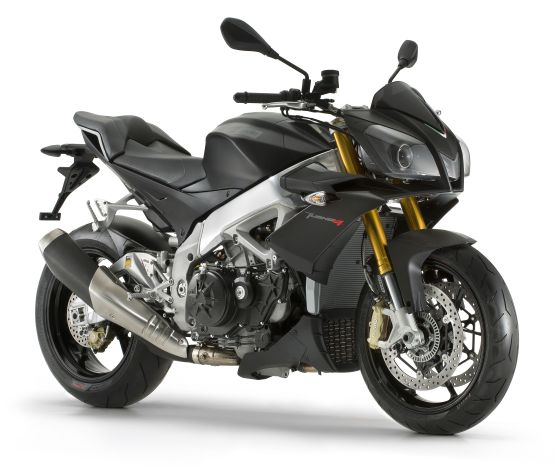 That deliciously potent and compact 65-degree V4 follows the 2013-model RSV4 unit by getting some revised internals for reduced friction, plus improved crankcase ventilation. As before, it differs in several respects from the super-sports motor: cam timing is softer, intake trumpets are of fixed length and 20 mm longer, the crankshaft flywheel is heavier, for smoother running, and the first three ratios of the six-speed cassette box are shorter.
This Tuono also gets a new silencer and re-worked fuelling, which combine to increase its maximum output by 3 PS to 170 PS at 11,500 revolutions per minute. As before the Weber-Marelli injection system incorporates three maps —Track, Sport and Road — with differing throttle response and the Road setting giving 25 per cent less power.
Aprilia's high-tech APRC (Aprilia Performance Ride Control) electronics package is now standard fitment on the Tuono. As before this includes eight-way traction control, adjustable via usefully big buttons on the left bar, plus quick-shifter, anti-wheelie and launch control. For 2014 the traction control system is refined with a new speed sensor that improves its performance by taking into account how fast the bike is cornering.
If those engine changes are mostly about enhanced performance and control, the Tuono's chassis updates are all about comfort and practicality. The twin-spar aluminium frame and the wheels aren't touched, but almost everything else is changed – starting with suspension, where the 43-mm Sachs forks and the same firm's remote-reservoir rear shock are re-tuned for extra compliance. The front brake system is upgraded with Brembo's Monoblocs in place of the original model's standard four-piston callipers, and gains ABS as standard.