In a world where masks hide intentions and characters, Yezdi's Scrambler stands out, brazenly untamed.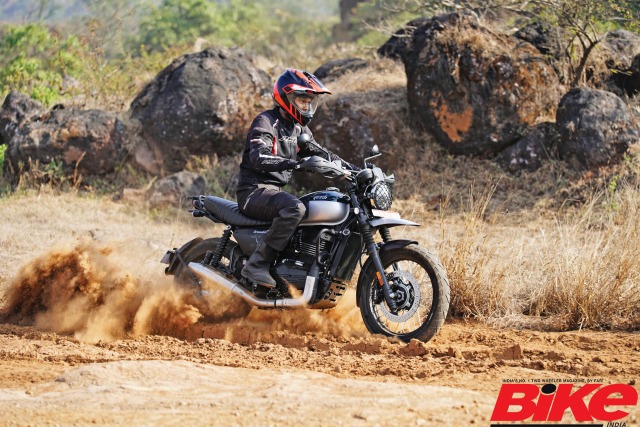 Once in a while, it is refreshing to see something purposeful and functional. Visually, the Yezdi Scrambler is exactly like that because it makes no attempt at hiding its intentions. This is clearly a motorcycle that is open to more than just tarmac riding; it promises to be fun off-road too. The Scrambler is the most desirable of the trio being discussed here and it has grabbed utmost attention on our social media channels. It is easy to see why.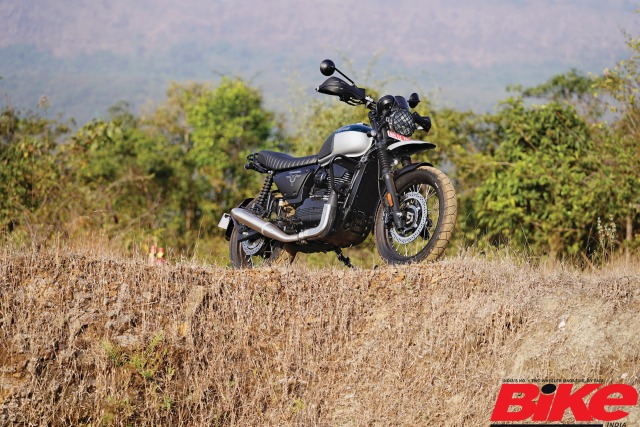 To begin with, there is nothing that looks quite like it in this segment. Yezdi have hit the nail on the head with the styling (again). The raised front mudguard, headlamp protector, curvy tank, and minimal tail only add to the menacing stance provided by the 19-inch front and 17-inch rear spoke wheels. At first glance it could easily pass off for a bigger motorcycle. The only styling element that beats me is why they have gone through the pain of using a one-into-two exhaust system when they could have just borrowed the cylinder head from the Roadster for twin silencers or just adopted the single silencer system from the Adventure.
The seating position on the Scrambler feels neutral and is comfortable thanks to the well-padded seat and easy reach to the handlebar. For off-road excursions, it supports standing up and riding, too, offering good levels of control and leverage, an essential to remain right-side-up on trails. In this motorcycle, the engine develops 29.1 hp and a peak torque of 28.2 Nm. Since its off-road prowess is what most people are excited about, that is where I headed first. At 182 kilograms, it is rather heavy to be exploited off-road and the weight is evident unless you are carrying pace. In fact, it was more taxing for me to push the motorcycle around on the trail than to ride it. Yezdi claim that this motorcycle has the flattest torque curve of the lot and, as a result, I expected it to be the most fun off-road, but its potential felt limited due to the tall final gearing and the tight, technical trail we were riding. I was never really able to utilize even second gear to its full extent. I found myself constantly shifting gears and dropping out of the powerband so often that I began to feel that this set-up is most enjoyable on a fast stretch of unpaved, unexplored road.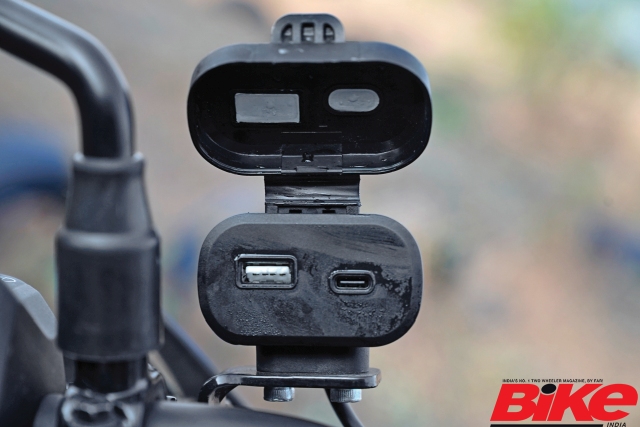 Out on the tarmac, things were marginally better. Sure, the gearing once again asked for quite some shifting up and down and the engine was not particularly happy or refined when ridden fast, but the Scrambler made up for it with its ride quality. Suspended with a telescopic fork at the front (150-mm travel) and twin shock-absorbers at the rear (130-mm travel) with long travel, the Scrambler made quick and effortless work of broken roads. Braking is decent thanks to discs at either end supplemented by dual-channel ABS. Yezdi have done their homework and remembered to include an Off-Road ABS map in addition to Road and Rain. Yes, in Off-Road mode, the ABS is disabled at the rear wheel. Handy that.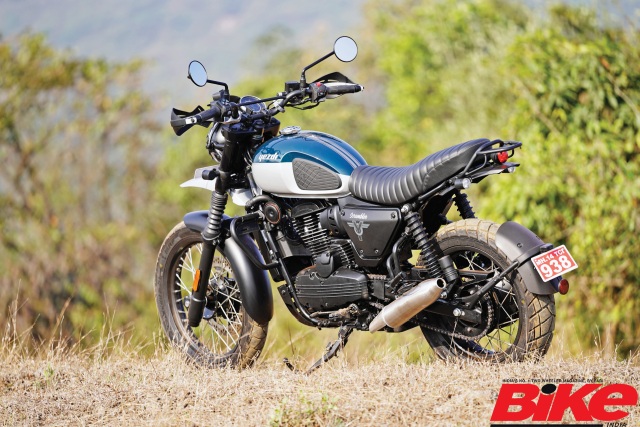 The Scrambler has been priced from Rs 2.05 lakh to Rs 2.11 lakh (both prices ex-showroom). If you want a true-blue Scrambler, there is really nothing quite like this in the market as of now. The Honda CB350RS comes close but it is more of an urban offering. The Scrambler has ventured into a space it has created for itself, like an entirely new genre of music. Will it pick up or not? Only time will tell.
Watch the video of the first ride review here:
Also Read: Yezdi Roadster First Ride Review