The Yezdi Roadster is supposed to be a bad boy dressed in a sharp three-piece suit. We decode the character of this retro-modern cruiser.
Some songs never die. They even survive long enough to connect people from different generations. An old tune that was being hummed by the father while driving his son to school could immediately find favour in the impressionable mind of the latter. Many years down the line, both of them could be singing the same song and enjoying it. With their revival (and through their advertisements), Yezdi boldly emphasize that connection across generations, even hinting that the Roadster touches upon the "bad boy" (or girl) side of things. My mission was to find out if Yezdi have recreated an evergreen classic to contemporary standards or if the Roadster is just a walk down memory lane.
As the name and the motorcycle's low-slung stance suggest, the Roadster was made for those who want to enjoy the liberty of the open road and look stylish during their urban commutes. Full marks to the design team at Yezdi because they have managed to capture the essence of a retro-roadster and worked the timeless charm of yesteryears' Yezdis into it. The result is a motorcycle that stands apart from anything else on the road with admirable levels of detail. The Roadster is the only motorcycle in the Yezdi line-up to have two exhaust ports and two independent exhaust systems. It also receives the distinction of being equipped with alloy wheels (18-inch front and 17-inch rear) and tubeless tyres. Such careful styling should have been complemented with good workmanship and quality, but the carelessly finished welds and inconsistent levels of fit-and-finish tell a different story.
The ignition is located on the right-hand side of the motorcycle and it brings to life a round, fully digital instrument console that displays the bare essentials and tell-tale lights. Although it may look like a full-blown cruiser, the Roadster's riding position is not what I would call conventional for a cruiser. The seat is fairly low, making it accessible to a wide range of riders, and the reach to the handlebar is manageable, too, but the foot-pegs are slightly rear-set, forcing tall riders to bend their knees at more than 90 degrees which may not make much of a difference in the city but could be a problem on long rides for some.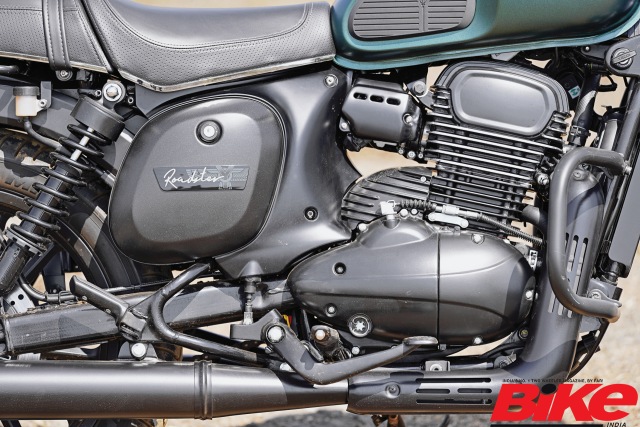 Motive force comes from the familiar 334-cc, liquid-cooled, single-cylinder unit that the Mahindra Group have been using for quite some time now. Yezdi claim that they have made slight alterations in this mill's internals and electronics for marginal improvement in performance. In terms of numbers, these subtle changes have allowed Yezdi to tweak the engine's power and torque output. The Roadster develops 29.7 hp and 29 Nm. I wouldn't call it particularly quick and it does not seem eager to be ridden fast either. Vibrations creep in at about 4,000 rpm and they become progressively noticeable through the rev-range, so the Roadster was most comfortable cruising along at 80 km/h with a nice soundtrack for company.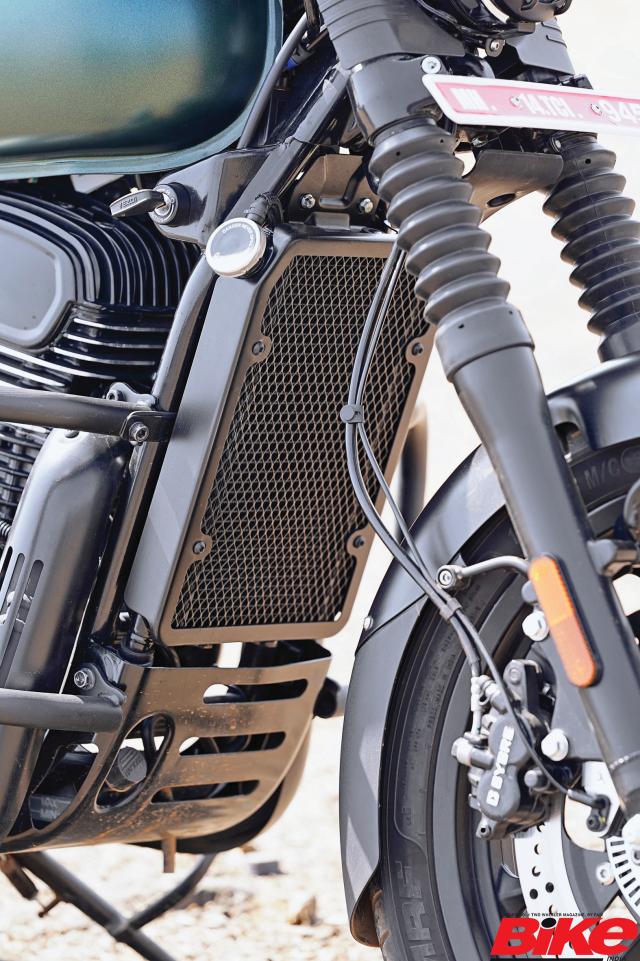 Since I had the good fortune of test-riding this motorcycle on a deserted stretch of road, I did not have to work the gearbox much but in sixth gear, it starts to pull away only from 50 km/h and I expect one will have to constantly shift gears while riding in traffic, which is not something to look forward to. Furthermore, there is a lot of room for improvement in terms of engine noise, refinement, and low-speed fuelling.
Once a decent speed is achieved, holding it is not much of a bother. The Roadster's suspension duties are managed by a telescopic fork at the front (135-millimetre travel) and twin shock-absorbers at the rear (100-mm travel). The motorcycle has a respectable ground clearance of 175 mm and that was enough to clear the most savage speed-breakers and unruly surfaces. There is a noticeable improvement in the ride quality as compared to other motorcycles in the Classic Legends fold. The suspension set-up is firm but the ride improves with pace and one can cover broken patches of road without being jolted around too much. The Roadster remains planted on straight roads and retains that stability while cornering as well. The MRF Zapper rubber provides a respectable rider-to-road interface and riding along on smooth and flowing corners is rather effortless. Braking is managed by discs at either end, supplemented by the safety of dual-channel ABS, and they do a decent job of slowing the motorcycle down. Additionally, Yezdi have also provided Road and Rain modes for the ABS, a nice touch.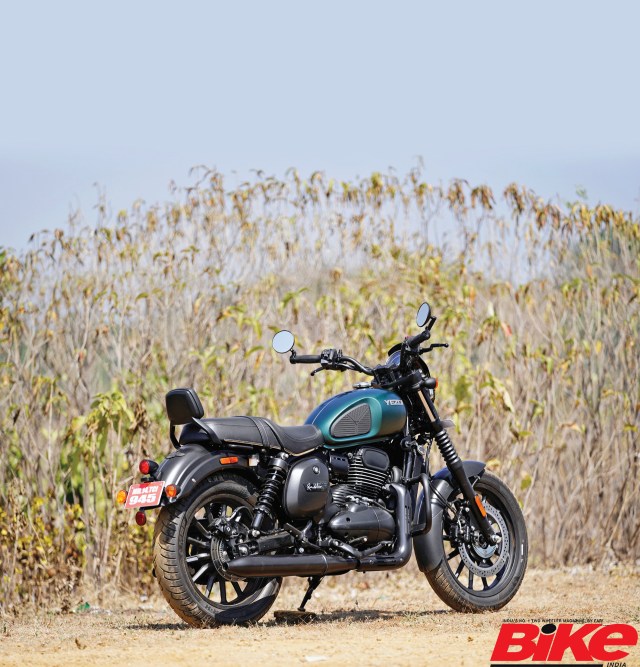 At Rs 1.98 lakh, the Yezdi Roadster is in close contest with motorcycles, including the Honda H'Ness CB350 and the Royal Enfield Classic 350, and, following a brief first ride experience, it looks like an uphill fight for the Yezdi. Although it ticks the right boxes for styling and nostalgic sentiment, there is a lot of room for improvement before the Roadster becomes a force to be reckoned with in its segment. Yezdi have got the cover for this song right but the tune and composition need to be a bit catchier to top the charts.
Watch the video of the first ride review here:
Also Read: First Ride Review 2022 Yamaha MT-10