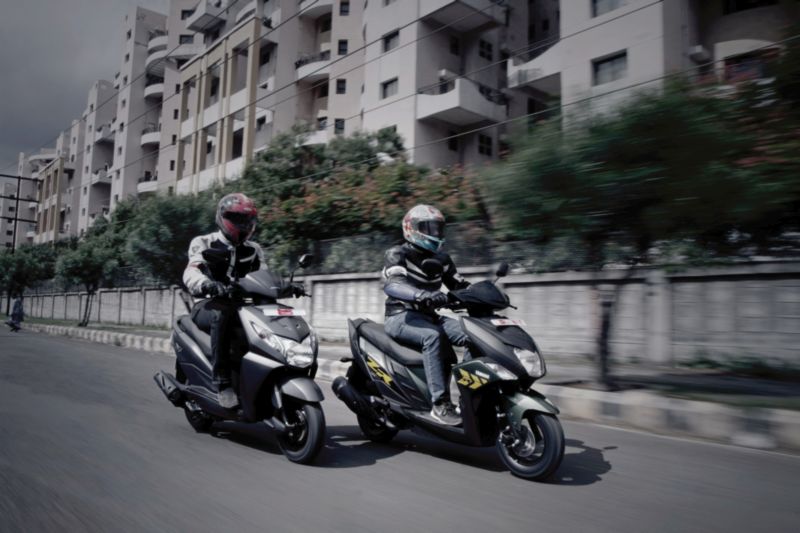 Among the many aggressively-styled moto-scooters that have surfaced, there has undoubtedly been one, the Honda Dio that truly stands out, balancing convenience and sporty appeal like never before. Now, with the advent of the Yamaha Ray ZR, there's a challenger to this champion. Is it sharp enough, though?
Story: Jim Gorde
Photography: Sanjay Raikar

Style is a dominating aspect of our lives. There's no doubt about that. While a tiny margin of people don't really care about the brands they wear or how they appear to others in what they've chosen so long as they're comfortable, it's a vastly different world out there. One that tends to show more respect to a monkey in a suit rather than an intellectual dressed in casual shorts and flip-flops. In an ideal world, the fashion capital would be a throng of people in jeans and T-shirts, but, as we can plainly see from the situation around us, it's far from it; and, worrisomely so, it seems to be getting worse.
An evolution of teenage and wannabe-teenage devil-may-care style has arrived in the form of 'swag'; where, at first, it seems you melt all your dignity and self-worth into chains for your neck and crowns for your teeth. While some may find it amusing to behold at first — pants getting evidently lower as they tend to process the idea before them ― there are many who actually take it seriously and consider it a lifestyle. While I'm certainly not trying to offend those who have adopted the lifestyle and turned it into a lucrative career, I'm trying to get to the bottom of how many are exposed to the results of other industries trying to cater to this particular lifestyle.
One such example is the new Yamaha Ray ZR, actually pronounced 'razor', as I became aware from the television commercial that recently played more than the actual programming. The new Ray ZR is essentially a Ray Z with more attitude; the one that wanted to be your new brother, which, in turn, was a Cygnus Ray with a bit less attitude than the ZR. What it is, to me, is a successful olive green colour scheme with yellow 'tattoo' graphics from the popular Yamaha FZ stickered on to the scooter and, appreciably so. The gas-damped monoshock with a brilliant gold finish and golden wheels bring the bling I was actually sort of excited about it.
I've never ridden a small scooter with a gas-damped monoshock and that's probably the sole reason I was looking forward to the Yamaha Ray ZR. That, and the fact that it looks like the sort of scooter Arnold Schwarzenegger would ride in 'Commando'.
Another one that actually managed to get my eyebrow raised was the new choice of colour for the Honda Dio. While their palette consisted mainly of two-tone shades, the simple act of turning the whole thing matte-grey makes it more interesting. Plus, if ever there were two moto-scooters asking for the spotlight, these are them.
Unfortunately, our Ray ZR didn't have the golden monoshock or wheels. The Yamaha dealer confirmed that the bling bits were not on offer, yet.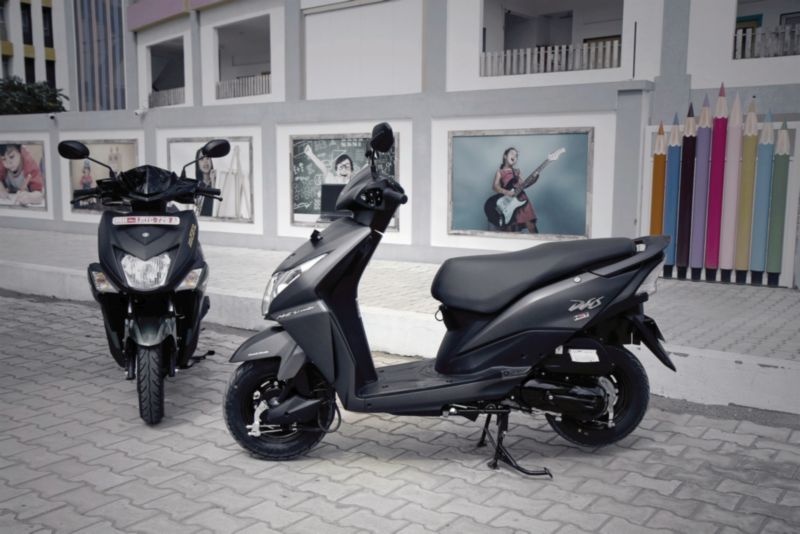 The Honda Dio has been the most attractive, rakish designed moto-scooter for a while; in fact, for over a decade. It built upon the success of its more everyday sibling, the Activa, India's best-selling scooter ever, and that was key. It was a more modern, youthful offering that was backed by legendary reliability and simplicity of operation: exactly what someone in their growing years with a fresh licence looking to dominate the streets on something without a manual transmission sought.