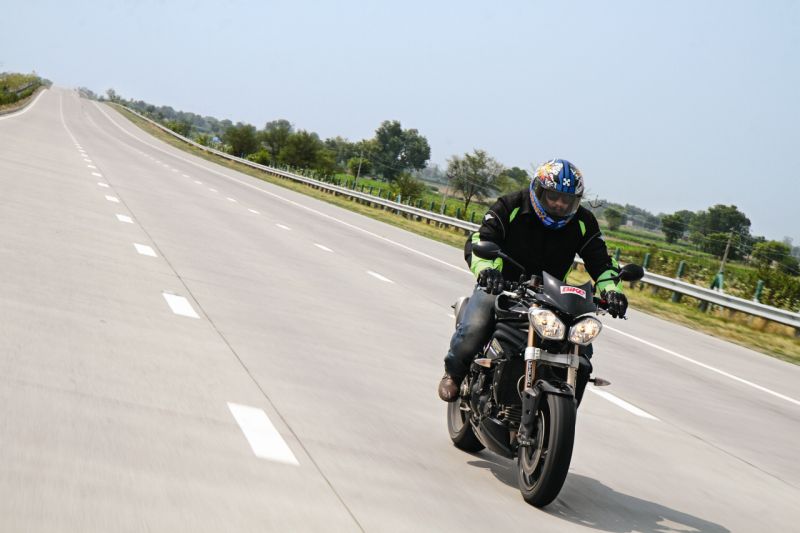 If you ever truly want to test the limits of your bike (up to 100 km/h, which is the speed limit here, and which was precisely the speed we stuck to) this is a must-ride road. So what we learn from this hair-raising stretch? The Speed Triple is insanely quick, and put your average fifty-piece orchestra to shame. You twist the throttle and then hold on for dear life as you're propelled forward by the Speed's insanely angry 127 horses aided and abetted by the 105 Nm twist from that three-pot.
And the sound. Oh, that glorious, glorious sound! Who needs a stereo system when you've got that massive ear-splitting, blood-pumping, heart-throbbing roar bellowing out from the twin exhausts just below and slightly behind you? Not this bloke, that's for certain. You really get to grips with the Speed's suspension in this environment too. Taut, firm and perfectly balanced, it keeps you centred and gives you confidence to open up that throttle as wide as it can possibly go. Another confidence-inspiring facet is the ABS-infused 320-mm Brembo floating discs up front and single 255-mm disc at the rear. You can't hit heady speeds (like 100 km/h, which we most certainly did not exceed) unless you know your bike has some serious stopping power too, and the brakes have bite enough to give you that assurance.
As with everything else in life, this good thing also came to an end all too soon as we headed off the highway and towards Agra. Now I, while not being a history-nerd, do still enjoy studying old edifices with inspiring background stories, so the prospect of seeing one of the seven wonders of the world for the first time (a travesty, I know) had me agog. Before that, though, we stopped off at Itmad-ud-Daulah's tomb and took a look around. This charming white marble mausoleum houses the tomb of Mir Ghiyas Beg, who was wazir (or chief minister) to Emperor Jehangir, who also anointed him with the title of Itmad-ud-Daulah or 'Pillar of the Empire'.