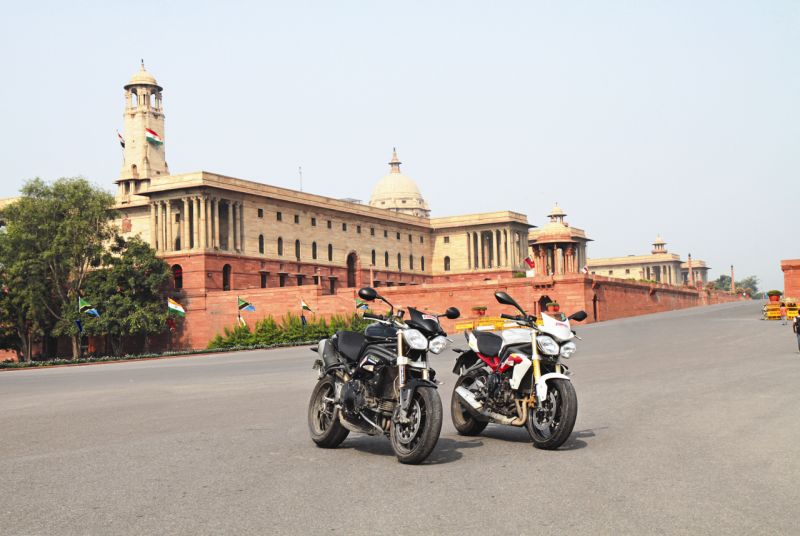 We're back on the Golden Quadrilateral and are making a quick call to the capital before we head out towards Varanasi and her unearthly charms, and towards Kolkata beyond, taking in all the sights and sounds en route  
Story: Harket Suchde
Photography: Rommel Albuquerque
The soft 'ding' of the lift doors opening snaps me out of my sleep-induced reverie as a bunch of us groggy guys (two of whom are resplendent in riding gear) pile out and make for the glimmering glass doors of the hotel and the irrationally bright sunshine outside. The very same sunshine falls upon a jet black Speed Triple and a shiny white-and-red Speed Triple parked in the driveway and my mood instantly perks up at the sight of the pair.
We're leaving Gurgaon and heading to New Delhi as we continue our journey along the Golden Quadrilateral, G-Quad for short. Our first stop in the capital is the Rashtrapati Bhavan, or the President's digs. As soon as we got there, I noticed something was off. Every alternate flag-post had a foreign ensign unfurled as opposed to the usual tricolour, and the ensign wasn't one I could easily recognise. Of course, I'm no Sheldon Cooper (Fun with Flags, remember that?) so I can be excused for not recognising it, and for the moment I just shrugged it off even though alarm bells were ringing in the back of my head, I couldn't quite pinpoint why.
The answer, however, became quite apparent when we went to all the other popular historical stops in New Delhi and were brusquely waved away by policemen strapped to their teeth. Our press credentials didn't win us the opportunity to get any nearer to these places either, but it did earn us a response: "The President and some foreign dignitaries are coming." The feeling of trepidation I experienced at the Rashtrapati Bhavan now explained, we moved on.