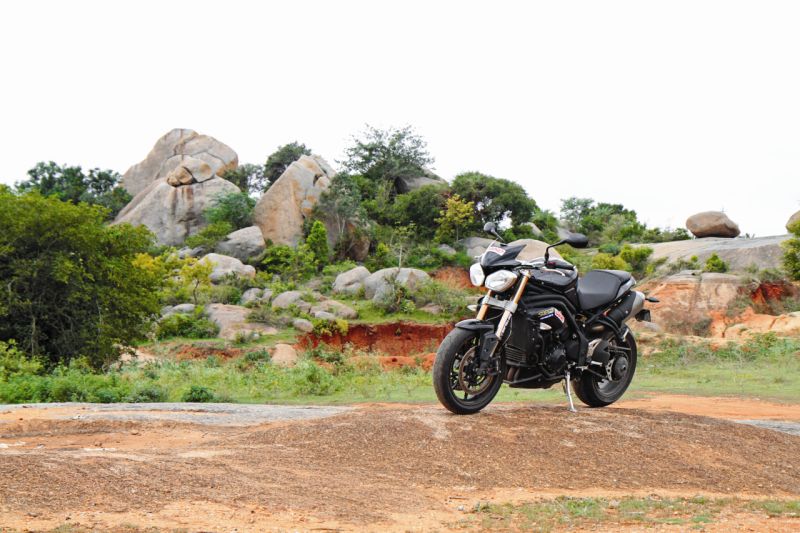 Next stop, the Bengaluru Fort, which began life as a mud fort in 1537, built by the city's founder, Kempe Gowda I. It evolved into a stone fort in 1761 under the stewardship of Haider Ali, and was conquered by the British in 1791. The remains of the forts pay evidence to its lost majesty, and are an intrinsic part of Bengaluru's history.
We left Bengaluru soon thereafter and headed home towards Pune. We stopped first to check out some rock formations by the roadside, and then at the famous Pavitra Idli for brunch. It was highway riding from there, and the Speed was allowed to flex its 1,050-cc muscle. Shifting up at peak through most of the six-speed 'box, I found myself hitting triple-digit figures in absolutely no time, and the chunky Brembos sporting cutting-edge ABS technology kept any hairy moments well in check. The upright riding position of the Speed meant I could have a look around, too, and immediately diverted the bike off the Golden Quadrilateral when I saw a signboard indicating Chitradurga Fort: turn left.
This 15th-century hill-fort is as attractive as its history is bloody. What's particularly interesting is the architectural approach, however; because it looks like none of other Indian forts I've seen, either on this trip or before. In the Fort's vicinity I spotted a little cobblestone back-road that went through an archway down its side, just begging to be checked out. A little bit of off-road fun later I found myself in a quiet little spot, surrounded by rocks and looking out into a forest. As comely as this little slice of serenity was, home beckoned, so off we went.