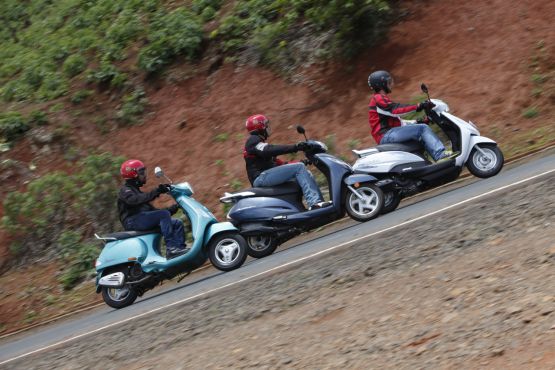 Engine and Performance
All the three scooters in this tussle have 125-cc single-cylinder engines mated to variomatic transmission. The VX engine breathes better due to its three-valve configuration and it is the strongest motor among the three. Its power output stands at 10.06 PS at 7,500 RPM while the peak torque of 10.6 Nm is achieved at 6,000 RPM. However, the scooter feels sluggish compared to the Honda and Suzuki and the engine lacks refinement. Performance figures suggest that the Vespa has a weak bottom-end performance, but gets stronger as the revs go up. Unfortunately, that's not a very useful characteristic for a scooter. It has the largest fuel-tank with a capacity of eight litres and the second best average fuel efficiency of 45.25 km/l, which gives it an impressive range of 362 km.
The Swish turned out to be the second best performer in spite of having a weaker engine than the VX's because the power and torque are generated 500 RPM lower. The maximum power output is 8.58 PS at 7,000 RPM and torque is 9.8 Nm at 5,500 RPM. The Swish has a strong bottom end and the best mid-range. It has an overall fuel efficiency of 42.2 l km/l and the six-litre fuel-tank gives it a decent range of 253 km.
Let's talk about the star performer. Honda's 125-cc engine is the most refined mill of the lot and delivers the best overall performance. It produces 8.6 PS at 6,500 RPM and 10.12 Nm at 5,500 RPM to ensure a healthy supply of horses when they are needed the most. It is also the most fuel-efficient engine as the average fuel efficiency is 46.8 km/l. Multiplying that with the 5.3-litre tank capacity gives it a range of about 250 km.
The Honda also has the best brakes. Equipped with the combined force of the 190-mm disc brake on the front wheel and the 130-mm rear drum brake, the Activa 125 comes to a standstill from 60 km/h in just 2.29 seconds and 17.33 metres. The Vespa has a bigger 200-mm front disc brake and 140-mm rear drum brake, but it takes almost three seconds and 22.51 metres to shed the same speed. The braking mechanism of the Swish is inferior in comparison as it includes a 120-mm drum brake for each wheel. However, the brakes have a strong bite and are almost as good as the Vespa's at shedding speed.