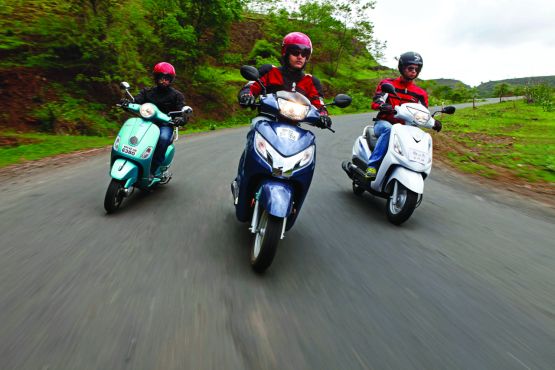 Honda Activa 125 competes with Suzuki's Swish 125 and the Vespa VX for the 125-cc scooter crown
Story: Piyush Sonsale
Photography: Sanjay Raikar

The Indian automatic scooter market is largely divided into two classes: 110 cc and 125 cc. Honda have the highest market share in the 110-cc class with a line-up of four distinctly packaged scooters, but they were absent from the 125-cc class until this year. The sales figures in respect of 125-cc scooters have seen a steady growth over the past few years and they have captured a small but significant chunk of the market. Therefore, Honda could no longer delay their entry into the higher class since they did not want buyers to opt for a different brand, thus reducing their dominance in the field. In comes the Activa 125.
Unveiled at the Auto Expo 2014, the 125-cc version of the Activa is an all-new scooter that was launched at the end of April this year. We had reviewed it in the June issue of the magazine and were impressed by Honda's latest offering. However, this new entrant faces stiff competition in the 125-cc class from the Suzuki Swish 125 and Vespa VX. So we decided to compare the three scooters to see where the Activa 125 stands vis-à-vis its competitors.