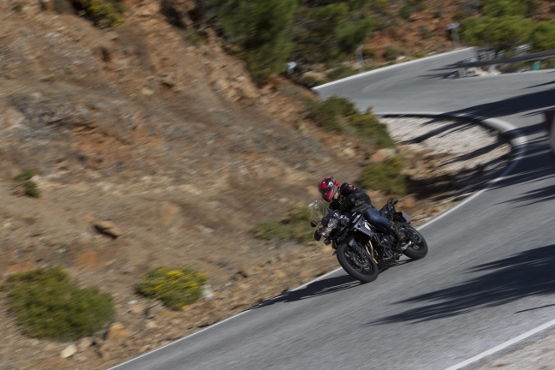 On the styling front, those of you who have seen the Tiger 800 XC that we featured in our previous issues or in the flesh will notice the absence of the characteristic beak. Instead there is a snubbily flat nose. Look closer and you'd also notice that the XRx's 19-inch dia front alloy wheel is a couple of inches smaller than the off-road-biased XCx's 21-inch wire spoke wheel. Dig deeper into the steel trellis frame and you find out that while the XRx sports Showa suspension, the XCx gets a WP unit. And then you sit on the bike. The difference is instantly noticeable, for the XRx is a good 30 millimetres taller.
In its XRx form, the Tiger's perch varies between 810 mm and 830 mm, depending on how you set the tool-less two-step height adjustment mechanism on the seat. There is also an optional low seat that further lowers the saddle height to 790-810 mm. Given how tall this shorter of the two Tigers is, lowering the seat immediately boosts your confidence as you can quite comfortably get both feet planted on terra firma when at standstill. The drawback of this feature, however, is that over long durations you can feel cramped on account of the reduced leg-room. Despite its offer of lower confidence, the taller seat actually works out better on long rides, and, frankly, confidence is something you'll gain anyway over a few kilometres of riding this bike.
And the issue of confidence brings me to my next topic. It's a tall and powerful motorcycle. So the assumption would be that this is not going to be an easy ride. On the contrary, the Triumph Tiger 800 XRx is an exceedingly easy motorcycle to ride. Even for first-timers. Now, I've ridden the old Tiger 800 XC on Indian roads and I found it to be quite rider-friendly, but this bike takes it to a different level. Triumph have given the bike a ride-by-wire throttle. As a result, throttle inputs on this motorcycle have almost become an intuitive affair.