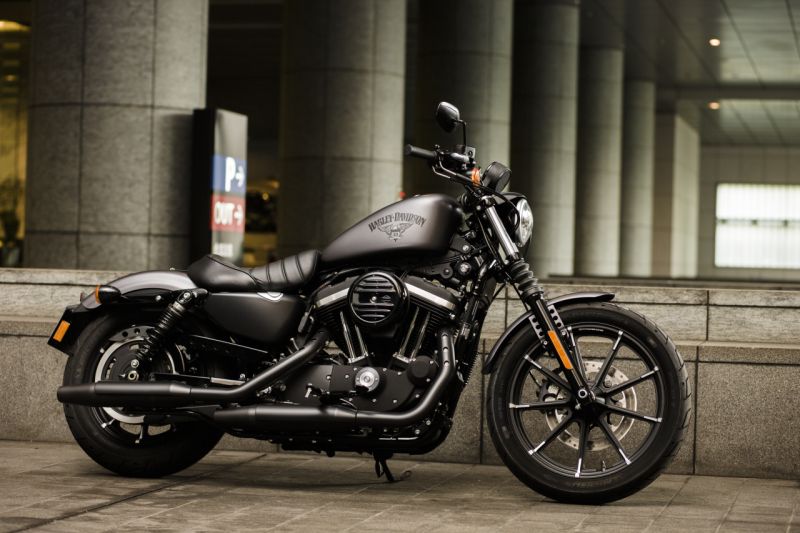 Here is an insight into the new Harley-Davidson Iron 883, HDs very own bobber style bike as we put it through its paces in Tokyo

The idea of a factory Bobber may be a bit of an oxymoron, but in the Iron 883, Harley-Davidson have tried to achieve just that. It carries all the hallmarks of a sporty, stripped-down, minimalist motorcycle like the bobbers of yore, but with a few signature Harley-Davidson twists thrown in for good measure.
When it comes to the looks department, the Iron is muscular, compact, and carries a screaming eagle on the tank – so very Americana. The blacking-out process of the 2016 line-up has been carried over to this model too, with the exhaust system and reworked air filter receiving the dark treatment. The more functional appearance of the 883 is accentuated by those gritty 9-spoke cast aluminium wheels and all the bullet holes on the front fender and belt guard.
The new 'tuck and roll' upswept seat is extremely comfortable, and is well positioned with reference to the handle bars and foot pegs, allowing for a restful and fairly upright posture while riding. The engine on the 883 is completely unchanged – it is still powered by the air-cooled, 883cc Evolution V-Twin present on the previous edition reportedly producing near 49 PS and 69 Nm of twist.
The meat of the matter is in the suspension however, because Harley have gone the whole hog with the rework on this component. The 39mm shocks now feature cartridge dampers up front, and this, along with the introduction of emulsion technology in the back which can be further adjusted for a fine-tuned ride, goes a long way towards smoothing over the ride quality. The bike still feels a little stiff, but won't break your back if you hit a porthole carrying speed. Braking too is pretty sorted thanks to the dual-piston front and rear brakes with the floating disc up front now beefed up to 300mm.
The bike feels responsive, quick and nimble, powering through empty stretches and dodging through traffic with ease thanks to the narrow handlebars and the meagre 12.5-litre fuel tank. You can't really corner hard on the Iron because you run the risk of snapping the foot pegs off, but Harleys aren't meant to be hurled into corners anyway so this should come as no surprise.
The Iron 883 is priced at Rs 7.37 lakh (ex-Delhi), and if you wish to read more about what the bike was like you'll have to go out and pick up our November issue when it hits the stands. In case you missed them, you can catch our first impressions of the Street 750 and Forty-Eight too.